Le Sundgau : a corner of paradise on the Swiss border
The southern part of the Upper Rhine is a rural area dotted with lovely green hills : Le Sundgau, or "county of the south". A haven of peace and quiet, though certainly not isolated, proposing a diverse and affordable property market.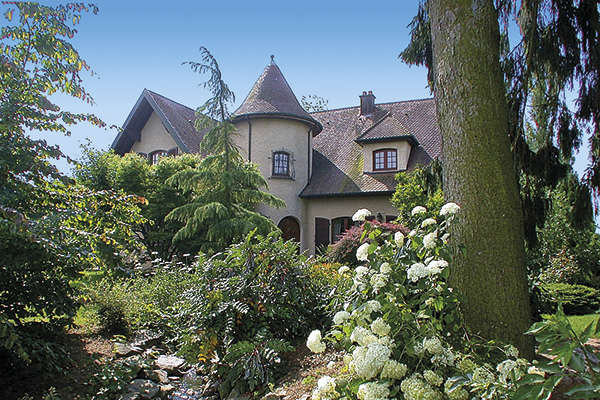 In Hagenbach (5 minutes from Altkirch), this villa of almost 300 m2 with a small tower is set in 2,800 m2 of grounds. 600.000 €. Le Rosenberg Immobilier (03 89 08 41 96).
Lying in the southern part of the Alsace region and part of the area south-east of Belfort, Le Sundgau is an agricultural sector with well-preserved nature and appealing living standards. "It benefits from all the proximity services necessary in terms of shops, schools and medical amenities," says Jérôme Broglé, manager of Altkirch Immobilier, a qualifed property surveyor and President of the FNAIM du Haut-Rhin. Based in Altkirch (less than 6,000 inhabitants), the capital of Le Sundgau, he describes a very varied market : "Both rural and urban, our environment enables us to provide solutions for all kinds of housing needs. From apartments for first-time buyers to large properties on several acres of land, the choice is very wide, which is not the case for urban outskirts such as those of Mulhouse". As for prices, "they correspond to the average for the département" : in Altkirch, Dannemarie, Hirsingue or Waldighofen, 2-bedroomed apartments cost from 110,000 to 150,000 €, while houses with 5 main rooms and gardens of 600-800 m2 sell from 220,000 to 250,000 €. Beyond these levels, one can find villas of about 200 m2 in grounds of 2,000 at around 400,000 €, Altkirchoise master residences or farmhouses, sometimes on almost 7.5 acres of land. "In large villages, building land costs from 14,000 to 16,000 € per 100 sq. metres, though it can drop to 7,000 € in more rural areas."
Another advantage offered by Le Sundgau is its closeness to the lively Swiss town of Basel and its surrounding region. An argument particularly valid for the area around Ferrette, a commune with less than 1,000 residents 20 km south of Altkirch and home to the agency run by Thomas Zeller, Le Rosenberg Immobilier. "It only takes 30 to 45 minutes to reach this major business centre," he says. "Yet prices here are 20 to 30 % lower than in the first ring around Basel." A house of about 100 m2 built some ten years ago with a garden of 800-1,000 m2 will fetch from 220,000 to 250,000 €. Prices very close to those of Altkirch, whereas "the same property in Saint-Louis, on the border, will easily exceed 300,000 €". The agency's clientele is thus largely comprised of people working in Switzerland and foreigners : "Swiss and German clients, of course, but also buyers from the UK and Holland. These purchasers usually dispose of more substantial budgets". Over towards Ferrette, top prices for houses lie in the 500,000 to 700,000 € bracket. "Which then implies an outstanding property with a remarkable view, setting and appointments."
You will also like