Le Pays de Loudéac, a trip to inland Brittany
The "community of communes" of Le Pays de Loudéac is comprised of 20 localities accommodating from 251 to 2,020 people, around the town of Loudéac, home to 10,400 inhabitants. The area benefits from a strategic location at the junction of main roads, 15 minutes from Pontivy, 40 minutes from Saint-Brieuc, 45 minutes from Lorient, Vannes and Rennes.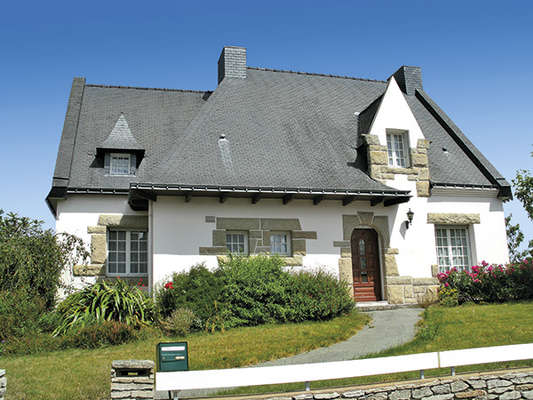 This "neo-Breton" house offers five bedrooms in a fenced garden of 714 m2, not far from shops in Loudéac. 194.000 €. ABC Immobilier (02 96 25 24 34).
Agriculture, the agro-food industry and transportation are its most go-ahead sectors, and the territory also has five activity zones. With a working population totalling 13,972, it has an unemployment rate much lower than the national average. Bountiful nature provides a magnificent playground for hikers, horse-riders and mountain-bikers. From the Musée des Toiles to the site of Le Vaublanc, from the forest to the sanctuary of Querrien and the Hilvern stream, central Brittany unfurls its charms. Fond of their "pays", the locals make sure it is properly preserved. Visitors appreciate its architectural heritage, both religious and archeological. The 7th largest town in the Côtes d'Armor, Loudéac offers a good balance between a rural setting and a built-up area. It has an aquatic centre, Congress and Culture Centre, spearhead mediatheque, "Maison de la Musique", sports complexes and almost 200 clubs and associations, joined by the "Maison de la Pêche", a riding centre and hippodrome, not far from the forest. Aquarev provides the town with an open green area : this free leisure park proposes a play area, a bamboo maze, fishermen's jetties, picnic areas, a jogging circuit and a multi-sport playing field. Schools provide education up to Bac+2, and gastronomy focuses on local produce.
"The property market is still complicated and mainly concerned with modest budgets," says Brigitte Bertho-Le Dantec of Avis Immobilier. "In the entire "community of communes", most transactions range from 80,000 to 130,000 €, with slight differences in prices depending on the locality." Building land is suffering from the RT 2012 standard which weighs significantly on the cost of construction. As for apartments, only one new residence is currently being marketed in Loudéac. "Cassiopée" is pegged on average at 1,880 €/m2, versus 1,700 €/m2, the budget required for an apartment with quality appointments in a sound old building in the same neighbourhood - the difference being that the latter is open to discussion. Parisian and other French retirees are responsible for a lively market in "neo-Breton" houses. Examples of 135 m2, possibly in need of modernization, with gardens of 1,000 m2 cost from 150,000 to 160,000 €. As for the locals, they pay 120,000-130,000 € for detached homes. Stocks are rich and diversified, so buyers have a choice.
"The most sought-after communes are Loudéac and the neighbouring localities of Trévé and La Motte, for the proximity of shops, amenities and services, but also for their pools of employment," explains Ghyslaine Chauvel of ABC Immobilier. Despite their economic appeal, prices here remain affordable. An hour's drive from the southern and northern coasts, central Brittany benefits from good road networks. Popular among all generations, the area is worth getting to know, especially for rental investors. By way of example, one seller is currently asking 300,000 € for a building consisting of six apartments, a shop and another building which could be used to create additional lots. At the moment, the property brings in total monthy rent of 2,600 €. In Le Pays de Loudéac, yield can still attain 5-6 %. Apartments are so scarce in agency files that it is hard to reason in terms of prices per sq. metre, especially for old buildings. Here, houses reign virtually supreme. Ghyslaine Chauvel has noticed a pick-up in the number of native Bretons "returning to the fold". Most of them are looking for a quality life-style and friendly atmosphere ; they like neo-Breton homes with their generous volumes, a style not necessarily preferred by the locals.
You will also like