Le Moulleau, a village within a town
A pleasant, well-known "faubourg" of Arcachon, Le Moulleau has preserved its authenticity, soul and architectural charm, all borne along on a warm, elegant, family atmosphere making it a highly-prized address.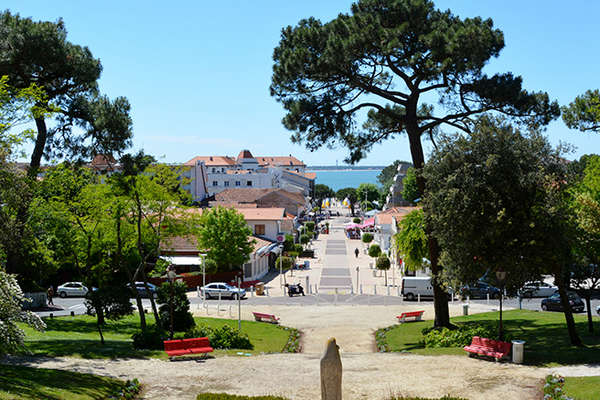 With its shops and restaurants open year-round, the charming neighbourhood of Le Moulleau in Arcachon offers authentic village life in all four seasons.
Based at the heart of this neighbourhood, Moulleau Immobilier is this year celebrating its 10th anniversary. "Our offerings now extend as far as Le Pyla, though Le Moulleau is our preferred address, and we are now focusing our real-estate expertise particularly on prestige properties on the front row," says Julie Vrand-Lemoine, property expert and manageress of this agency on a human scale, aiming to provide all-round service and an attentive ear to each of its clients' needs. "The front row is a micro-market within a small market. Demand is still growing in Le Moulleau and Le Pyla, especially as this area benefits from maximum sunshine and fabulous sunsets. We are currently offering residences here in the Gaume family's Basco-Landais architectural style, renovated to meet today's taste, at prices ranging from 4 to 11 million euros depending on their appointments, the size of their grounds and the length of the waterfront," explains Julie Vrand-Lemoine, whose clientele is mainly comprised of Parisians, rising in number since the introduction of the high-speed railway line placing Bordeaux just two hours from the capital. "Most of our buyers have nurtured a long sentimental bond with Arcachon. They want to acquire a residence here for get-togethers with family and friends, and it often involves a long-term asset. Properties remain in the hands of the same family for several generations. There is therefore very low turnover, and a very restricted market." In addition to properties on the front row, Le Moulleau offers a good number of small apartments, mostly built in the 1980's. "They are mostly pieds-à-terre of about 30 m2, priced around 280,000 € depending on their condition. Though a view of the sea can send the price soaring up to 12,000 € per sq.m."
Based in the Bassin d'Arcachon for the past five years, the Barnes agency, expert in prestige properties, knows the market in Le Moulleau and its specific features very well. "The entire Bassin d'Arcachon is seeing real momentum," says manager Christophe Vaissié. "Over the past decade, the area has benefited from significant development, providing a good array of infrastructures and amenities which attract more and more buyers, now wanting to live here year-round, or at least several months a year, with new approaches to work allowing for new lifestyles. Le Moulleau is one of Arcachon's sought-after addresses. Offering villas of charm and character, the neighbourhood is close to the beach, restaurants, the jetty, shops... Its everyday life is truly delightful." However, as supply is not extendable, the market is very narrow and available properties are becoming rare. "Most of our sales are concluded in a highly confidential manner," adds Christophe Naissié. "It is one of our strong points here at Barnes. Our seller-clients know that we have the network and address-book required to introduce them quickly to serious buyers from Paris, Bordeaux or abroad. A good number of our clients are ex-pats. We thus recently handled the sale of two villas in Le Moulleau, on the seafront, at prices between 4.6 and 6 M €, and also houses to renovate and apartments."
You will also like