Le Moulleau, a highly-prized area
Next to Pyla-sur-Mer and just opposite Cap-Ferret, Le Moulleau benefits from an advantageous location. Very popular over the past few years, this address has become a seasonal rendez-vous for the "in" crowd !...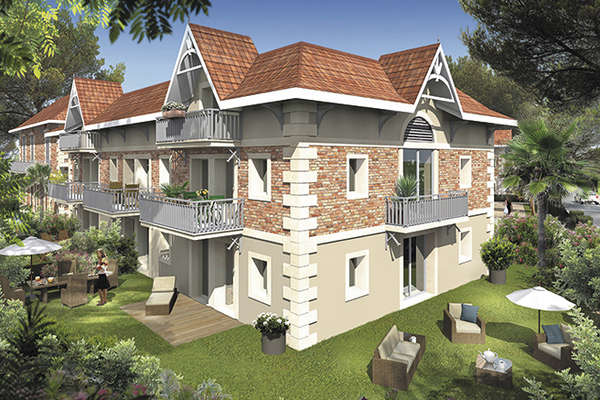 This magnificent new development offering high-spec appointments is scheduled for delivery in the first quarter of 2018. From 600.752 €. Stéphane Plaza Immobilier Arcachon (05 56 83 68 03).
Arcachon, the town named after the four seasons, is split into four neighbourhoods : the town centre or summer quarters, the historic neighbourhood or "Ville d'Hiver", the harbour, or "Ville d'Automne", and Pereire, the "Ville de Printemps". There is, however, a fifth area, now highly-prized : Le Moulleau. Wherever you are in Le Moulleau, you are within walking distance of the beach, a weighty argument for its residents. Among other things, Le Moulleau owes its charm to its vast pedestrian zone and the Church of Notre Dame des Passes which overlooks the village and offers a lovely view of the sea.
Over the last ten years or so, Le Moulleau has become known as Arcachon's most fashionable neighbourhood. Nathalie Foulon, manageress of Stéphane Plaza Immobilier Arcachon, points to its chic restaurants, numerous boutiques and night-time bars drawing a constantly growing clientele. "Which is posing a problem for Le Moulleau. Demand now outstrips supply, and it has become impossible to satisfy everyone," says Nathalie Foulon, who is also President of the Association des Agents Immobiliers for the region around Arcachon. By way of example, she mentions a Gaume-style house at the very heart of Le Moulleau that she sold in just four hours, by "remote control" ! This villa of 100 m2 with a garden of 450 m2 won the hearts of clients from Reims in a video-conference : they paid 8,000 € per sq. metre to acquire it, which is the average going rate for properties in Le Moulleau. For a larger house on the front row facing the ocean, with more extensive grounds, prices range from 4 to 7 million euros. Within walking distance of the beach, Le Moulleau is highly sought-after for holiday homes, especially by clients from Paris, Bordeaux, Belgium and even Italy, who all comprise the majority of the agency's clientele. Also specializing in rental management, Nathalie Foulon takes care of 200 properties offering weekly rentals. "On a year-round basis or for short stays, rentals comprise a very lively market in the centre of Arcachon, where the station, shops and the sea can all be reached on foot."
Fanny Miard-Medina of Artémia Immobilier readily compares the market in Le Moulleau to that of Le Pyla, an area which has also "exploded" over the past few years, thanks, in particular, to Philippe Starck, designer of the new Co(o)rniche Hotel. "From Easter until All Saints' Day (November 1st), Le Moulleau remains lively, welcoming owners of holiday homes who come to relax and enjoy themselves in this magnificent setting, very leafy and with a decidedly trendy atmosphere." Here, the typical property mostly available is the Basco-Landaise house from 80 to 100 m2, often in need of renovation, with a garden of 400 to 600 m2. They usually cost around 6,000 € per sq.m ; once renovated, they can fetch as much as 10,000 € per sq.m if they are less than 400 metres from the beach. The Agence Artémia recently sold two houses, both in quiet locations : one of 52 m2 with a garden of 108 m2, just 200 metres from the beach, priced at 330,000 €, and another of 90 m2 with a garden of 350 m2, 600 metres from the beach, with renovation on the programme, priced at 580,000 €. Two transactions which are good reflections of the current market.
A negotiator for Arcachon Coaching Immobilier (ACI), Sylvie Guarda is really pleased with the growing success of the Bassin d'Arcachon : "There has always been steady demand for Le Moulleau and Le Pyla, and this demand is clearly rising with each passing year". Easy access from Paris (2 hrs 30 on the LGV train), natural beauty and the serene atmosphere which reigns here are, of course, characteristics accounting for their success. "Le Moulleau has a very special power of attraction. Its chic family ambiance is appreciated by a national and international clientele, particularly keen on the area stretching from Les Arbousiers to the Sailing Centre in Le Pyla." The top priority for buyers is to be able to walk to the beach. Location thus prevails largely over the style of the home, and Le Moulleau is indeed an ideal choice. "Accounting for a large percentage of buyers in Le Moulleau, Parisians acquire holiday homes here, often planning to make them their permanent residences later on," adds Sylvie Guarda.
You will also like