Le Genevois, multiple offerings
With a large cross-border clientele, Le Genevois is a very active market borne along by the vitality of new developments.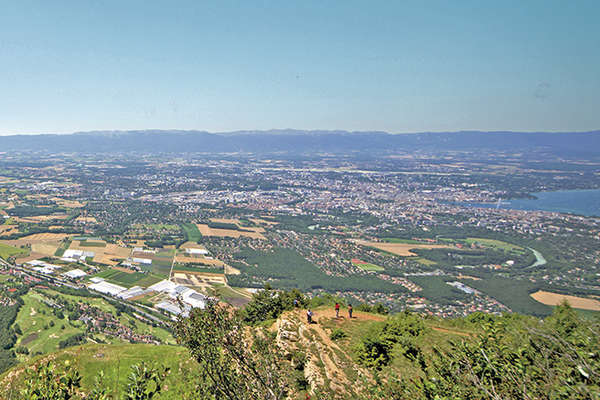 Comprised of 173 communes including Annemasse, Bonneville, Saint-Julien-en-Genevois, Bellegarde-sur-Varserine, Gex and Divonne-les-Bains, "Le Genevois français" forms, together with the neighbouring Swiss agglomeration, "Le Grand Genève".
One year ago, when he acquired the agency he had managed for the past four years, consultant-developer Pascal Vinciguerra renamed it Cabinet Vinciguerra Immobilier. Just 300 metres from the Perly customs, in Saint-Julien-en-Genevois, this independent agency with expertise in sales, rentals and property management covers the entire area of Le Genevois, the Annecy bassin, from Le Pays de Gex to Bourg-en-Bresse. "Our clientele is mainly comprised of cross-border workers looking for family homes or large apartments, with budgets ranging from 450,000 to 600,000 €, ideally situated on communes with the 74160 post code," explains Pascal Vinciguerra. "They are faced by scarcity in the case of old properties, especially as the market is characterized by a lack of transparency due to a tendency towards over-pricing. New properties therefore appeal, and the various developments we propose are meeting with growing success." For example, in "La Petite Forestière", whose delivery is scheduled for the end of the summer, in Malagny on the commune of Viry, only two houses are still available of the 10 initially on offer. With living space from 111 to 130 m2 and gardens of 700 m2, they are priced from 460,000 €. In Valserhône, the developer is building two pleasant residences with contemporary appointments, "Le Montmartre" and "La Canopée", with 19 and 24 apartments comprised of 2 to 5 main rooms, pegged from 2,700 € per sq.m, garages extra. At the heart of Annemasse, the Cabinet Vinciguerra Immobilier is presenting, as sole agent, an up-market residence, "Le Brooklyn", with 11 apartments, close to main roads. Offering luxurious appointments, it will soon be on the market from 4,300 € per sq.m. "Other developments are in the pipeline in Ville-La-Grand, Archamps and Gaillard."
"New developments are indeed very popular, especially if they are conveniently placed," confirms Christian Petament, Manager of Affair Immobilier in Collonges-sous-Salève. Handling transactions all over Le Genevois, this agency is currrently marketing the 9 apartments (with 2 to 5 main rooms) in the residence "Le Sequoia" in Etrembières, three minutes from the entrance to the motorway and the Vallard customs. Prolonged by terraces of 20 m2 or gardens, these high-end apartments with sweeping views of Mont Blanc and Le Môle are priced from 219,000 € (for a 1-bedroom apartment of 52 m2 - garage extra). "Only four apartments are still available, including the penthouse of 131 m2 with its terrace of 125 m2, on offer at 696,000 €." In addition to this development, the agency is offering several residences of quality in Vetraz-Monthoux, pegged at around 4,400 € per sq.m and rising to 6,500 € per sq.m for penthouses. "The market for older properties is also steady, as long as they reflect real market prices," adds Christian Petament, mentioning, by way of example, the recent sale of terrace houses of over 100 m2 at 470,000 €, a house of 120 m2 built in 2010 with a garden of 600 m2 in Collonges, at 680,000 €, and a fine 1980's property of 210 m2 in mature grounds of 1,300 m2, currently up for sale at 895,000 €. "Building plots are widely sought-after in the area, especially by Swiss buyers with budgets ranging from 650,000 to 700,000 €. Now on the rise, they are proposed at around 500 € per sq.m."
You will also like