Le Chablais, between Geneva and its lake
Occupying almost 900 sq. km between Lake Geneva and the valley of Le Giffre, Le Chablais in Savoy is home to over 101,000 residents. Forming part of "Le Grand Genève", several communes close to the Swiss border are currently very buoyant.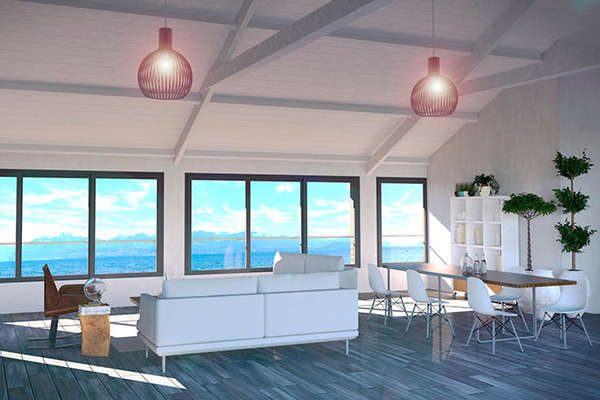 On the commune of Lugrin, this outstanding villa of 170 m2 is comprised of a large living-room with an open kitchen and 4 bedrooms. Private beach in grounds of 1,196 m2. All the rooms offer panoramic views of Lake Geneva and the Jura mountains. 1.450.000 €. Bersot Immobilier (04 50 76 19 12).
The second most densely populated commune in the département after Annecy, Thonon-les-Bains occupies an area of 16.2 sq. km on the southern bank of Lake Geneva, to the far north of the Massif du Chablais, 35 km from Geneva. At the helm of the Bersot Immobilier agency in Thonon, Bertrand Laquait and his team propose a wide array of properties ranging from a studio priced at 58,000 € to a prestigious villa with private beach at the edge of the lake, estimated at around 1,450,000 €. "While investors and certain foreign buyers with substantial budgets form part of our clientele, most of the transactions we handle involve main homes for retirees and the actively employed, including numerous "frontaliers"." With budgets of around 250,000 €, they are looking for apartments or small houses, ideally located near the ferry terminal or main roads to Geneva. "Today's clients are presented with lots of choice," adds Bertrand Laquait. "Many new properties are on offer at attractive prices. Old properties without any major assets are thus seeing a slight set-back in their prices. However, even in need of renovation, homes offering views of the lake are still highly-prized and guarantee stable prices."
Based in Douvaine, Bons-en-Chablais, Sciez and Veigy, the Poirier Immobilier agencies were created by Sébastien Poirier in 2009. The group now has three partners : its founder, Thibaut Houssard and Pascal Mugnisi. Testifying to the firm's dynamic approach and professionalism, a fifth agency will open its doors in the first quarter of 2018 in Thonon-les-Bains. "The market in Le Chablais is very easy to understand. It meets two criteria : closeness to the border with Switzerland, and closeness to the lake. In other words, the nearer you are to the border, the nearer you are to the lake, the higher the prices," explains Sébastien Poirier, whose agencies are currently marketing several new developments. "Numerous new developments are under construction. It's the result of a national desire for densification of the communes, and requirements linked to rising population figures all over the Greater Geneva area. It is hard to give an average price per sq. metre for new properties, they are so different in type. Prices vary from one commune to another with considerable disparity. They can start from around 3,000 € and attain 6,000 € per sq.m for a top-floor apartment enjoying a view of the lake." In Excenevex, 200 metres from Lake Geneva, the development "Les Vignes du Lac" signed Chablais Habitat offers several advantages to those looking for main homes or rental investments. "The only commune to benefit from a sandy beach around Lake Geneva, Excenevex is very lively in the summer months, but also pleasant in the off-season. Urban planning here is very well-controlled and infrastructures well-suited to the area's development," explains Sébastien Poirier who, with his teams, is marketing these 32 apartments ranging from studios to 3-bedroomed units, priced from 117,000 €, and the 18 terraced villas priced from 354,000 €.
You will also like