Le Beaufortain and Le Val d'Arly : a mixed bag of offerings
"Here more than anywhere else, the gaze melts with the heart," said Boris Vian when talking about Le Beaufortain and its many little villages. Far from being outdone, Le Val d'Arly boasts two of Savoy's finest skiing domains, including the sumptuous Espace Diamant.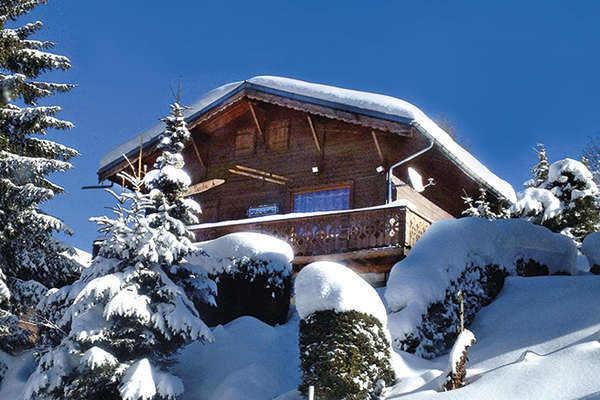 This renovated chalet of 120 m2 in Crest-Voland is comprised of a two-bedroom apartment at garden level, and a split-level apartment with 4 main rooms and large terrace on the upper floor. 445.000 €. Agence Alpina (04 79 31 66 01).
Lying between the Massif du Beaufortain, Massif des Aravis and Massif des Bauges, at the edge of the départements of La Savoie and La Haute-Savoie, Le Val d'Arly plays host to pleasant village resorts with authentic family atmospheres. Crest-Voland/Cohennoz, Flumet/Saint Nicolas la Chapelle, La Giettaz en Aravis and Notre Dame de Bellecombe are all charming resorts, ideal playgrounds for apprenticeship in all kinds of "glisse" in the Espace Diamant. Between fir trees and mountain pastures, skiers appreciate the high-performance facilities provided by these addresses on a human scale.
"Our property market is stable and we are seeing more and more buyers with generous budgets, from 500,000 €, looking for chalets with 3 or 4 bedrooms," says Sophie Rebord of the Agence Alpina, opened in Crest-Voland in 1999. Mostly from the Rhône Alpes region, they are particularly drawn to the communes of Crest-Voland and Bellecombe, giving direct access to the slopes. "Immediate proximity to the slopes tops the list of search criteria. Clients want to take full advantage of their holidays, with as little hassle as possible." Whether in old buildings or recent residences, there is a lot of choice. Apartments cost from 130,000 € with 1 bedroom, 200,000 € for 2 bedrooms. A few new developments complete these well-balanced offerings. At the very heart of the village of Crest-Voland, the Agence Alpina is currently marketing a renovation programme consisting of five large apartments with 3 to 5 main rooms, benefiting from quality appointments and parking places, and priced from 5,500 € per sq. metre.
Nestling up above Albertville, between Le Val d'Arly and La Vanoise, Le Beaufortain is a well-preserved area characterized by its rich array of hamlets and fierce determination to hang onto its mountain-style architecture. It is comprised of Beaufort, Les Saisies, Arêches, Queige, Villard-sur-Doron and Hauteluce. The resorts of Arêches-Beaufort and Les Saisies-Espace Diamant appeal to all levels of skiers. "Choice is varied and meets all kinds of budgets : those who prefer to invest in new properties of character will find what they're looking for in the Mont Joly development, whose first phase of construction has just been launched. Ideally located at the heart of the listed village of Hauteluce, this residence is comprised of two authentic, early 29th-C. Savoyard buildings, renovated with respect for their architectural style. Split into 16 apartments with generous surface areas -1 to 5 main rooms -, they offer high-end comfort. 1 bedroomed apartments of 50 m2 are on offer at 220,000 €," explains Marie-Pierre Garbay, who founded the Immobilière du Beaufortain agency in 1987 in Arêches and Beaufort, so as to be able to offer her clients a wider array of properties covering all of Le Beaufortain. "Our clientele consists of French, English, Belgian and a few Swiss buyers." Depending on their finances and inclinations, they set their sights on desirable properties in Hauteluce or Villard-sur-Doron. Which both offer the advantage of being at the heart of the skiing domain of Les Saisies Espace Diamant and that of Les Contamines. Here, lovely chalets, new or renovated, range from 395,000 to 695,000 €. Some also allow for very good rental income. Typical old farmhouses built of stone and timber also draw the interest of certain clients who can see their potential. They are prepared to spend from 300,000 € to acquire these properties in need of renovation. The price of chalets on the slopes can soar, depending on their precise location and appointments. By way of example, Marie-Pierre Garbay mentions a ski-in, ski-out chalet of 100 m2 enjoying a view of Mont Blanc, up for sale at 590,000 €.
You will also like