La Teste de Buch, a magnificent heritage
South of the Bassin d'Arcachon, La Teste de Buch is comprised of three main urban areas : the traditional village of La Teste-centre, the nautical village of Cazaux, and the seaside resort of Pyla-sur-Mer. All around, nature offers amazing scenery of which residents never tire...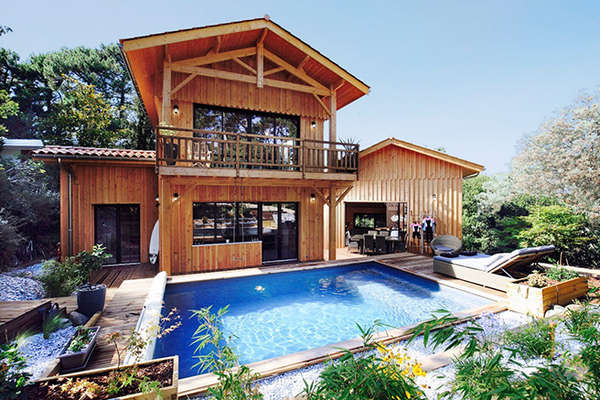 In a well-preserved neighbourhood, this house has been treated to a very successful rehabilitation and now offers quality materials, intense colours and omnipresent light. 1.390.000 €. Ateliers Lofts & Associés (05 57 52 32 64).
Virginie Irigoin, manageress of the Agence Carnot, describes a buoyant property market : "2017 has proved to be an excellent year for La Teste de Buch, which has succeeded in becoming a market in its own right. Previously, it was mostly a fall-back market for Arcachon". Demand is flooding in and properties are becoming scarce. The market is, however, very diverse, in terms of both properties and prices. La Teste offers small houses in "longère" style, requiring renovation, at around 200,000 €, contemporary residences with 3 or 4 bedrooms, gardens and garages, from 400,000 to 500,000 €, but also many new developments in the hyper-centre, in which 1-bedroomed apartments with balconies and parking places are pegged around 200,000 €, with 3-bedroomed apartments around 400,000 €. Recently, the Agence Carnot sold a 1-bedroomed apartment on plans to a first-time buyer, in a pretty residence with balconies and secure parking facilities, priced at 190,000 €. One can also find a few luxury properties such as penthouses of approx. 200 m2 which draw lots of interest and cost about 800,000 €. Finally, in the highly sought-after area around the harbour, timberframe houses ranging from 160 to 200 m2 call for the same budget. "While our clients are mainly from Bordeaux and Paris, others come from the Haute-Garonne or Les Landes," adds Virginie Irigoin. "Just recently, we have seen the arrival of buyers from Marseille wanting to benefit from a privileged location while enjoying living conditions of higher quality and, above all, a higher level of security."
At Ateliers Lofts & Associés, manageress Carmen Milcent and her staff specialize in unusual properties. "Thanks to their architectural culture, all the members of the team are highly demanding when it comes to bringing properties to the agency. They thus meet the requirements of a discerning clientele." A clientele which is growing, with the arrival of new faces over the past 18 months, thanks to the LGV train service. "Many young families from Paris or its surrounding region are looking for properties in both Bordeaux and around the Bassin, and of course in La Teste, with comfortable budgets which sometimes upset the balance in the market. We then see a fluctuating market in La Teste and it becomes very difficult to give average prices." Properties seeing the highest demand include houses designed by architects, building land, or houses that can be demolished. Traditional "pavillons" meet with less enthusiasm. Carmen Milcent also mentions fishermen's houses near the harbour, in the neighbourhood of Les Canelots. Here the agency recently sold a property in "very Bassin d'Arcachon" style : a 4-bedroomed house of about 210 m2, built of wood, with a garden of almost 600 m2 and a natural pool, priced at 765,000 €. So-called "Testerines" up for sale often need renovating. Though the agency just sold one, renovated throughout by an architect. In the centre, this little house of 140 m2 with a garden of about 800 m2 and a pool cost its new owners 630,000 €. As for the neighbourhood of Le Pyla, Carmen Milcent says that it should be considered separately from La Teste, as its market, mainly comprised of holiday homes, is completely different.
You will also like