La Salanque : main and holiday homes
A small natural region north-east of the Pyrénées-Orientales, La Salanque is a suburban area prized as much for its beaches as for the comfort and convenience of its small towns undergoing development.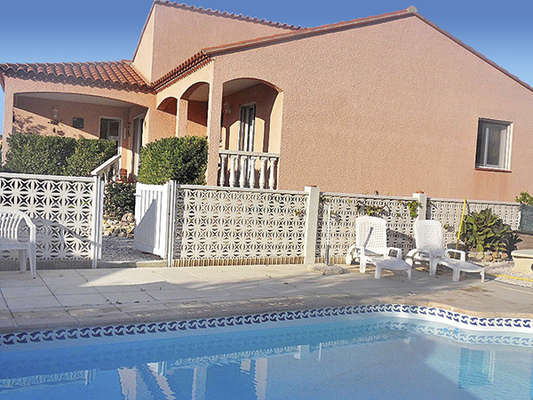 In Saint-Laurent-de-la-Salanque, this villa offers three bedrooms and a swimming pool with cover. 357.000 €. Nelly Immobilier (04 68 50 86 45).
The historic capital of La Salanque, Saint-Laurent-de-la-Salanque is a town with less than 10,000 inhabitants 10 km north-east of Perpignan, endowed with all the necessary amenities. It is thus lively all year round, with a property market mostly revolving around main residences. "Today, properties which sell the most easily are villas or apartments of about 90 m2, priced from 210,000 to 220,000 €, together with attractive houses over and above 400,000 €," explains Nelly Lauriac who runs Nelly Immobilier, an agency covering the entire Salanque region. "On the other hand, intermediate properties are having a tougher time finding takers." Her latest sales include a lovely villa in Saint-Laurent-de-la-Salanque, with a small garden, "not often the case here", and quality appointments, priced at 220,000 €, and another high-class villa with three bedrooms and a pool on the neighbouring commune of Torreilles, bearing a price-tag of under 400,000 €. And who are the clients ? "The typical profile consists of young retirees from the Parisian region or Toulouse, or occasionally other European countries, mainly Belgium or the Netherlands."
Denis Accary, director of the Agence Les Palmiers in Sainte-Marie-la-Mer which has just changed its name after 23 years of activity, targets a different market : a commune with less than 5,000 residents about 15 km from Perpignan comprised of a village and a seaside neighbourhood known as Sainte-Marie-Plage, running along the Mediteranean shore. Here, it is holiday homes that are therefore in demand. "In the case of apartments, those of 25 to 32 m2 with 1 bedroom, near the sea and ideal for holidays, can be had for around 100,000 €, while those with 2 or 3 bedrooms range from 150,000 to 170,000 €." As for houses, the holiday maisonnette of 30 to 35 m2 with a small garden and parking space will cost the same. "The most sought-after property is, however, a single-storey house with 2 or 3 bedrooms, a garage and a garden of about 200 m2, priced between 180,000 and 250,000 €." The price for building plots of 300 to 350 m2 ranges from 300 to 400 € per sq. metre. 90 % of the buyers come from outside the region. "They are mostly retirees and clients looking for second residences."
You will also like