La Robertsau : between town and country
A former market-gardening area which has now become residential, La Robertsau, north-east of Strasbourg, offers proximity to the town in a pleasant natural setting. A privileged neighbourhood with relatively high prices, and a proliferation of small houses.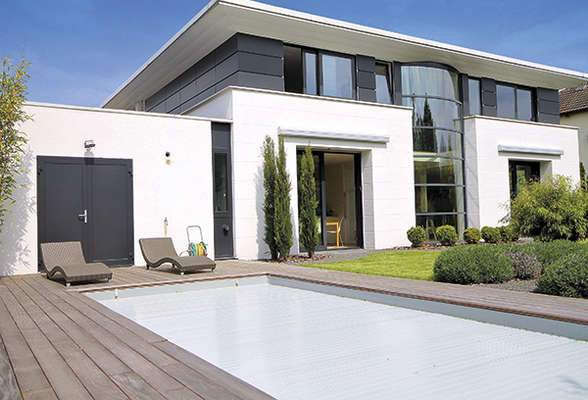 This architect-designed house offers five bedrooms in a cul-de-sac in La Robertsau. 1.220.000 €. L'Immobilière Catherine Chevreux (03 88 44 01 56).
Bordered to the north by the forest of La Robertsau, to the south by the Canal de la Marne au Rhin, to the east by the Rhine, and to the west by l'Ill, La Robertsau is an extensive area - almost 25 % of the territory of the commune of Strasbourg - created in the 19th century by market-gardeners. It was, however, to be very quickly transformed into a desirable neighbourhood by well-heeled residents of Strasbourg, swapping its small-holdings for lovely middle-class properties, and becoming the quiet, residential neighbourhood of today.
"With its small houses and numerous open spaces, La Robertsau gives the impression of being outside the town. Yet the centre of Strasbourg is within easy reach, and the neighbourhood benefits from local shops, primary schools, an intermediate school, a hospital and clinic," explains Grégory Kihl, who has covered La Robertsau for HRD Immobilier and specialized in the area since 1997. "Not forgetting a well-developed bus service and a tramline which reaches the entrance to the neighbourhood and will be extended in 2016." Prices here are therefore higher than elsewhere in Strasbourg : "Apartments with one bedroom range from 140,000 to 160,000 €. For two or three bedrooms, one would expect to pay from 260,000 to 280,000 €. For surface areas of 100 m2 or more, prices exceed 320,000 €". As for houses, the agency's sales mostly involve properties of about 150 m2 with gardens of 400 or 500 m2, ranging from 400,000 to 600,000 €. "Despite prices which have declined and a certain hesitation which can be felt in the market, demand remains very steady. La Robertsau is definitely a neighbourhood with a future."
An opinion shared by Catherine Chevreux, manageress of L'Immobilière Catherine Chevreux, based in the area for the past ten years : "For a house priced from 400,000 to 500,000 €, we used to have ten potential buyers. Since lending cond­itions have become tighter, we now only have four or five. But we always complete the sale". Focusing on the top end of the market, and thus offering a full array of services to a demanding clientele, she also describes "a market with a good turnover. Civil servants working for the European Council move very frequently, enabling us to dispose of a varied and permanent portfolio". Which is notably comprised of those famous little houses "of about 120 m2 with gardens of 300 or 400 m2, sometimes in need of refurbishment, and priced around 400,000 €", properties of approx. 200 m2 built in the 1930's-1940's with gardens of 600 or 700 m2, from 600,000 to 800,000 €, and houses designed by architects, pegged at 1 million euros or more. "This type of property can offer living space of up to 800 m2 in 2,000 m2 of grounds." As for apartments, the price per sq. metre in 1960's buildings starts at 2,000 €. "Those built in the 1980's cost from 2,500 to 3,200 €. Finally, for apartments in recent residences in lovely settings, prices can climb to 4,000 € per sq. metre."
You will also like