La Croix Valmer, an address with a view
Lying at the southern entrance to the Saint-Tropez peninsula, La Croix Valmer is a peaceful seaside resort facing the Mediterranean and backed by the Corniche des Maures. Nestling at the heart of a luxuriant protected site, it has succeeded in retaining its charm and peacefulness.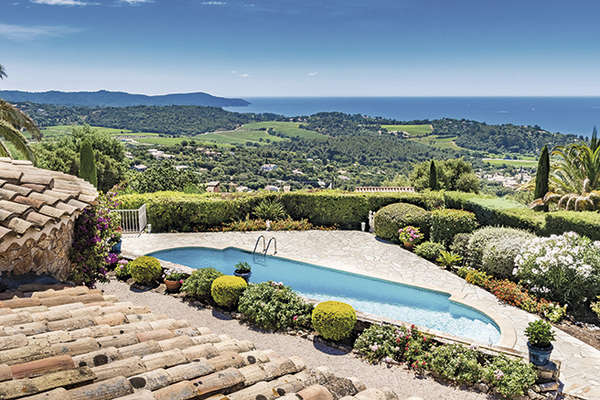 Recently sold, this villa of 135 m2 in grounds of 1,300 m2 offers a spectacular view of the sea. Autour de 1,5 M €. Heraclee - Darnis Immobilier. (04 98 12 94 12)
With its 7 natural sandy beaches stretching 6 km along the coast, La Croix Valmer is well-known for the quality of its crystal-clear seawater. Hosting a protected nature park of about 544 acres, it allows for magnificent walks between the woods and the shore. Enchanting scenery can be admired from the old customs officers' path from the Gigaro beach to Cap Lardier. Following a slowdown on its property market over the past five years, prices have steadied and the market has now gotten its breath back.
"Compared to its neighbours around the Gulf of Saint-Tropez, the commune of La Croix Valmer is seen by potential buyers as a haven of tranquillity. They especially appreciate its vast, protected, natural environment," says Guillaume Videcoq who heads up the Immosur agency with his Dutch asociate, Johanna Evers. With La Croix Valmer serving as its main catchment area, this agency specializing in sales and seasonal rentals, with 17 years of experience, also offers its services all around the Gulf. "Most of the villas we present are priced from 1 to 5 million euros," explains Guillaume Videcoq. "Almost all of the transactions we handle concern holiday homes. In 70 % of cases, our buyers are foreigners, mainly from the Netherlands, Germany, Switzerland and Belgium. They are looking for a pleasant villa with a view of the sea, within walking distance of the beaches and centre, and offering at least four bedrooms." Such a property in good condition, in extensive grounds with a pool, requires a minimum budget of about 1.5 M €. Like one recent example of 180 m2 set in 1,300 m2 of grounds, which just sold for 1,360,000 €. Properties currently available mainly consist of houses built in the 1960's and 1970's. "Most of them no longer suit today's taste," says Guillaume Videcoq. "But faced by a very limited choice of modern properties, clients fall back on these houses whose locations are often appealing. They then envisage a re-build or renovation."
Convinced of the potential of La Croix Valmer, the professionals of the Heraclee agency in Saint-Tropez opened a new branch in the commune just one year ago, taking over the Agence Darnis. "We knew that this address could also be of interest to our clients, for whom the limited offerings and very high prices in Saint-Tropez do not meet all demands," confides its manager, Filippo Speranza Patrignani. "The sea views here are stunning, the beaches highly appreciated, and the commune is on the best side of the gulf, just 20 minutes from Saint-Tropez. La Croix Valmer is not just, however, a great fall-back market, it is now an address deliberately chosen by connoisseurs." The agency's clientele is mostly comprised of French buyers in search of a holiday or semi-main home. "A view of the sea and being able to walk to the beaches are the most widely-sought criteria." Properties proposed by Heraclee range from 650,000 to 5 million euros. By way of example, Filippo Speranza Patrignani mentions the recent sale of a house with more than 7 bedrooms and a pretty garden. With sea view and beautiful appointments, this property a 10-minute walk to the beaches has just been acquired for around 2.5 million euros. "High-end properties with sea views, whether contemporary or in neo-Provençal style, start from 1.5 M €." Even these prices can be described as very acceptable, given the commune's outstanding location. Buyers have got the message. This property market is currently very buoyant, a fact that the coming presidential election should not undermine.
You will also like