La Côte d'Argent, a region of undiluted charm
Lapped by the Atlantic Ocean along a sandy coastline edged with high dunes, the Côte d'Argent in Les Landes is the largest sandy beach in Europe. It plays host to the renowned or more discreet seaside resorts of Hossegor, Seignosse and the now very fashionable Contis.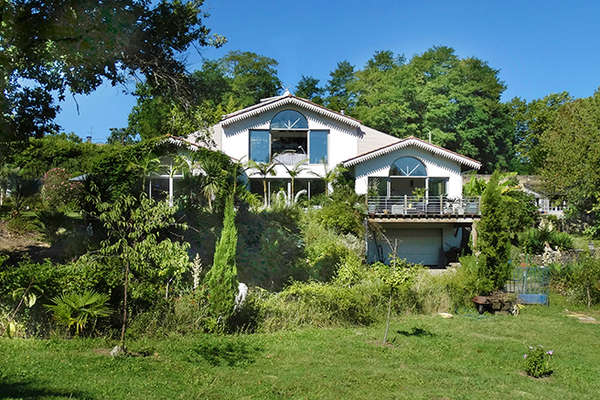 Designed by an architect, this house of 300 m2 built in 2008 around a tropical patio-garden on approx 5.43 acres of land with a pool is in Sainte-Marie de Gosse, 25 minutes from Hossegor. 780.000 €. Terres et Océan Immobilier (06 61 17 69 41).
Based in Saint-Julien-en-Born for about 10 years, the Bay'immo agency founded by Stéphanie Zuccaro and Tiou Tripier offers a wide array of properties, notably located in Mézos and Saint-Julien-en-Born. This vast commune of over 18,000 acres runing along the shore is comprised of a small town and the seaside resort of Contis-Plage, which boasts the only lighthouse in Les Landes. "Contis has become extremely popular," say our experts. "It is sought-after by a good many French buyers and a few German and English clients, in search of pleasant holiday homes, ideally located in the Contis-Plage area." In fact, this well-preserved area comprised of a beach 5 km long, sand dunes, biking paths, and a forest of maritime pines offers a privileged setting, highly-prized by families and surfers. "You need a budget ranging from 400,000 to 800,000 € to set your sights on a house, while 1-bedroom apartments at the foot of the dune start from 180,000 €," explain these agents, who mention as an example of transactions they have recently handled, a through apartment of 45 m2 prolonged by two terraces. In a quiet environment at the edge of the forest, it sold for 170,000 €. Confronted by steady and rising demand, availabilities are becoming tighter with prices clearly higher than those posted on neighbouring communes. As for houses, prices vary depending on their location. "They naturally rise the closer one gets to the ocean. They can double within a range of just a few kilometres."
The most renowned seaside resort on the Côte d'Argent, Hossegor enjoys an image both sporty and elegant. Between the forest of Les Landes and the shores of the Atlantic, Hossegor offers a casual lifestyle focusing on surfing and golf. "The buoyancy of the second half of 2016 has continued throughout 2017. Demand for holiday homes is constant, and supply is diminishing considerably," says Serge Pilke, manager of the Terres et Océan agencies in Hossegor and Biarritz, which has a portfolio of houses mostly on offer – on the commune of Hossegor - from 1 million euros. Such as a large recent property of 500 m2 with a pool and annex in the golf-course area, sold by the agency for around 1.9 million euros. "Faced by scarce availabilities, buyers opt either to be patient, sometimes ready to wait two or three years, or expand their search areas." By way of example, Serge Pilke mentions the recent sale of a house of 200 m2 in need of renovation, with a garden of about 900 m2 on the commune of Seignosse, less than 10 km from Hossegor. Close to the beach of Les Estagnots and offering a delightful view of the ocean, it just found a taker at around 1.1 million euros. The Terres et Océan agency is currently proposing several contemporary villas and charming houses over and above 1 million euros, in Soustons and Sainte-Marie de Gosse, together with outstanding properties such as a 19th-C. residence enthroned in a 42-acre park comprised of woods and meadows. 25 minutes from Hossegor, this noble home benefiting from several annexes, tennis court and pool is up for sale at 1,470,000 €.
You will also like