La Côte Bleue, stable prices but limited offerings
A well-preserved region offering dazzling panoramic views of nature, La Côte Bleue lies next to the Marseille neighbourhood of L'Estaque. Le Rove, Ensuès-la-Redonne, Carry-le-Rouet, Sausset-les-Pins, La Couronne and Carro comprise this shoreline area edged with idyllic coves and creeks.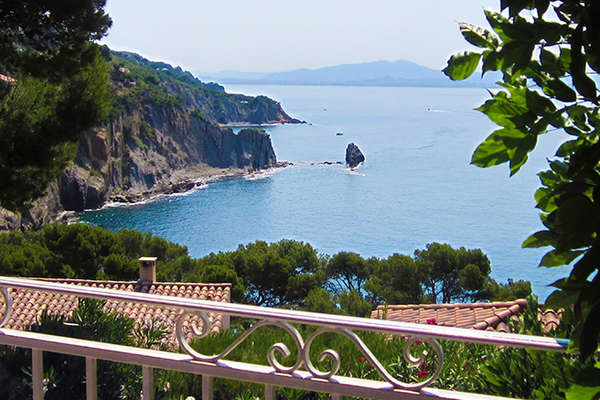 In Ensuès-la-Redonne, this villa of approx. 150 m2 in grounds of 1,000 m2 offers this view of the sea with Marseille and its islands in the distance. 1.380.000 €. A2mimmo (04 42 40 40 40).
Designated as a wooded area, La Côte Bleue has benefited from well-reasoned urban planning since the 1970's. Undeniably popular for its scenery, it also appeals for its strategic position at the gateway to Marseille, L'Etang de Berre, the Marignane international airport, and the TGV stations of Marseille and Aix-en-Provence.
"The market is characterized by real liveliness and demand remains steady, especially for properties from 500,000 to 700,000 €, which are becoming increasingly limited," explains Michèle Cambiaggi, manageress of A2Mimmo. An agency proposing a tailormade approach to real estate, including a wide array of services ranging from financing to home staging and assistance when moving house. With a clientele mainly comprised of locally-based executives, retirees from all over France, buyers from Switzerland, Belgium and Luxembourg, it has in fact just availed itself of new technologies to extend the visibility of its properties. Looking for year-round homes, its clients give preference to villas near the beaches, ideally located in Sausset-les-Pins or Carry-le-Rouet, the two most highly-prized communes in the area. "With a budget of 600,000 €, you can set your sights on a classic house of 130 m2 on an estate, with a garden of 600 m2 and a pool. A view of the sea immediately justifies a higher price : a similar property offering a view of the Med will be pegged above 700,000 €," says our estate-agent, whose portfolio is mainly comprised of villas and prestige properties estimated from 1 to 1.5 M €, plus few high-end apartments, such as one split-level example of 150 m2 in Carry that just sold for 895,000 €.
Specializing in La Côte Bleue and particularly the commune of Sausset-les-Pins, Judith Agopian runs the Promoval agency founded by her mother in 1971. In April, she opened a branch on the harbour, thus gaining more visibility. "Demand is steady for the commune of Sausset, especially from the locally employed, executives working in banks or companies such as Eurocopter, Total or Arcelor Mittal. They appreciate the amenities and quality lifestyle offered by Sausset-les-Pins, which has a crèche and schools up to "collège" level. With budgets under 500,000 €, they are looking for 3-bedroomed houses of about 100 m2 with gardens of 500 m2 on this commune conveniently located less than 30 minutes from their workplaces." These clients are not, however, spoilt for choice. When a property meeting their search criteria comes up for sale, they react very quickly. "Aware of rising demand, owners find it hard to accept our estimates," says Judith Agopian. What about apartments ? "Those with one bedroom are sought after by couples who are first-time buyers, those with two bedrooms are mainly of interest to retirees : after selling their houses, they opt for a more practical lifestyle." With budgets ranging from 300,000 to 400,000 €, retirees aim for apartments of at least 55 m2. "Most residences in Sausset were built in the 1980's, so they consist of smaller apartments. 1-bedroom apartments offer living space of about 30 m2, while 2-bedroomed apartments offer 40-45 m2. Older residences are therefore more popular." By way of example, Judith Agopian mentions a 2-bedroomed ground-floor apartment of 57 m2 with a terrace of 50 m2 and a view of the harbour, in a 1960's residence. With a living-room of 26 m2, this property close to shops is up for sale at 350,000 €.
You will also like