La Côte Bleue, an insiders' micro-market
With its stunning creeks offering dazzling panoramic views of nature, La Côte Bleue is an address highly prized by fans of peacefulness at the water's edge. After benefiting from well thought-out urban planning, it appeals for its quality living conditions, but also for its strategic position at the gateway to Marseille.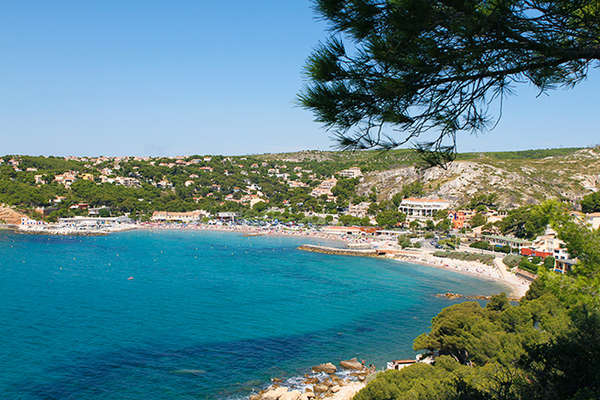 Lying at the foot of luxuriant hillsides covered with pines, Carry-le-Rouet is enthroned at the heart of the Côte Bleue, 30 km from Marseille.
Next to the neighbourhood of Marseille called L'Estaque, Le Rove, Ensuès-la-Redonne, Carry-le-Rouet, Sausset-les-Pins, La Couronne and Caro compose this preserved wooded area, a prolongation of the neighbourhood of L'Estaque.
"Always borne along by demand that exceeds supply, our property market is buoyant with many transactions completed at asking price," says Michèle Cambiaggi, Manageress of A2Mimmo, an agency undergoing real development and offering a personalized approach to real estate based on a wide array of services. Michèle Cambiaggi and her team cover the entire Côte Bleue and its surrounding area, with a portfolio comprised of houses and apartments priced from 400,000 € for a small villa to renovate, up to 4.7 million euros for a château, for which the agency is acting as sole agent. "Our clientele is made up of French buyers wanting to take advantage of the sun when they retire, executives recently transferred to large companies in the area, and a few foreigners – from England, Luxembourg, Switzerland and Belgium – looking for holiday apartments. They come up against pretty scarce offerings, and as the Côte Bleue is a micro-market with no possibilities for extension, they cannot be too demanding if they want to find a property quickly." As examples of today's market, Michèle Cambiaggi mentions the recent sale of a split-level apartment of 120 m2 in a select residence with a pool and garages, on the front row in Carry-le-Rouet. Extended by a pleasant garden and offering lovely views of the sea, it sold for 750,000 €. An unusual house of 110 m2 built in the 1950's and renovated in 2017, with a garden of 500 m2 in a quiet neighbourhood in Sausset-les-Pins, just found a taker at 500,000 €.
A specialist on the market of La Côte Bleue and particularly the commune of Sausset-les-Pins, Judith Agopian runs the Promoval agency founded by her mother in 1971. "We are seeing steady demand for 1-bedroom apartments from 30 to 40 m2 from investors giving priority to long-term furnished rentals which we manage for them via our property administration service. These apartments are worth from 180,000 € for living space of around 30 m2 or 220,000 € for about 40 m2 : they can be pegged at higher prices depending on their appointments, views, and the size of their outdoor areas." Even though demand outstrips supply, prices remain stable. As for houses, they are sought-after as permanent homes by numerous employees of Eurocopter and the neighbouring refineries. They appreciate the quality lifestyle provided by Sausset-les-Pins, well-equipped in schools, nurseries, shops and other amenities. "Demand most frequently targets 3-bedroomed houses from 100 to 120 m2 with gardens of 500 m2, fetching from 450,000 to 550,000 €," explains Judith Agopian. Who has just handled the sale of a house of 120 m2 with a garden of 500 m2 priced at 520,000 €, and that of a villa of 80 m2 in need of renovation, with a garage and garden of 600 m2, at 375,000 €. "When a property is placed on the market at our estimated price, it sells on average within 1 to 3 months."
You will also like