L'Isle-sur-La Sorgue, a town of remarkable character
This little town in the Vaucluse is far from lacking in character. Nicknamed "La Venise Comtadine" and well-known as the capital of antiques and bric-à-brac, L'Isle-sur-La Sorgue benefits from an aura enabling it to attract a vast foreign clientele without losing any of its authenticity.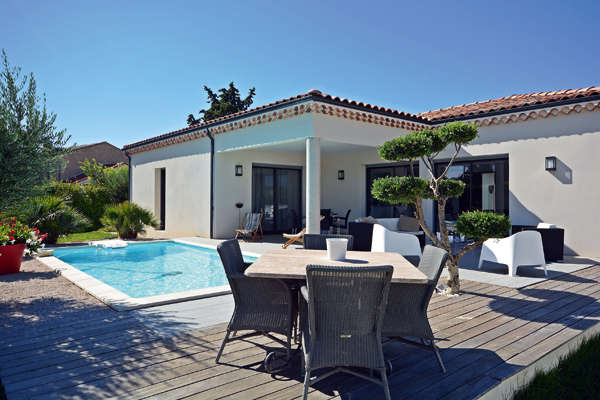 This house in a hamlet 5 minutes from the centre offers 2 bedrooms, a landscaped garden with a pool, and a clear view. 490.000 €. Janssens Immobilier (04 90 92 35 35).
25 km from Avignon and 70 km from Marseille Airport, L'Isle-sur-La Sorgue nestles at the foot of the Plateau du Vaucluse. A real "island-town", it is one of Provence's must-see addresses. Its pretty setting, historic legacy, private mansions converted into art-galleries and antique shops, its fishermen and climate are all factors contributing to its very special atmosphere. The power of attraction of L'Isle-sur-La Sorgue is very strong, and the harmony that reigns here between men and nature is particularly remarkable.
In his portfolio, Franck de Mondésir of Janssens Immobilier focuses on prestige properties in L'Isle-sur-La Sorgue, but also in neighbouring addresses such as Le Thor and Pernes les Fontaines. "In this segment of the market," he says, "you can identify three typical buyer profiles". Firstly, those - and they are numerous - who want to move out of town and benefit from a "mas" five minutes from the centre. These clients usually have budgets ranging from 1 to 1.5 million euros. Then there are older people who prefer to live in the town centre for practical reasons, and at more reasonable prices, from 500,000 to 1 million euros. Finally, in lesser numbers, those who decide to launch themselves into a B&B activity, a "niche" market, as described by Franck de Mondésir. Among its most recent sales, Janssens Immobilier, a partner of the Knight Frank group, specializing in real estate at international level, can pride itself on handling two very lovely properties. Located in Le Thor, one of them sold to Belgian clients, the other to Canadians, at prices close on 1.5 million euros.
Initially based in Cavaillon, the agency Immocial Transactions moved to L'Isle-sur-La Sorgue two years ago. Michèle Quay offers her clients a diverse array of properties ranging from 80,000 to 3 million euros. "Which allows us to meet a considerable amount of demand," she says. Demand which currently focuses on 3-bedroomed houses of about 110 m² priced from 280,000 to 350,000 €. Those with 4 bedrooms require budgets from 400,000 to 500,000 €. Finally, the "mas", the real flagship property, is still a favourite whose popularity never seems to fade. Close to Gordes, the agency recently sold a small "mazet" with further building rights, for 260,000 €. In Morières, a retiree acquired a house of 110 m2 all on one floor with a garden of 1,200 m2, for 320,000 €. Immocial Transactions also helped a young couple to buy the home of their dreams, in Cavaillon, with 3 bedrooms and a garden of 500 m², at a negotiated price of 224,000 €.
For Daniel Follain, associate manager of the Orpi-L'Orée de l'Isle agency since May 2012 : "The property market in L'Isle-sur-La Sorgue and its surrounding area is stable, with most sales involving houses of 100 to 130 m2 with gardens of 500 to 800 m2". In the town centre, a detached house of approx. 150 m2 will usually fetch around 370,000 €. Close by, in Robion, Daniel Follain just sold a village house of 128 m2 with an inner courtyard, for 240,000 €. As for apartments, especially those with 2 or 3 bedrooms, they are mostly of recent construction, ie. from 1990 to 2005. One client wanting to live on a permanent basis in L'Isle-sur-La Sorgue acquired a split-level apartment of 90 m2 in a gated residence, priced at 268,000 €. If it is located on the banks of the River Sorgue, and offers living space of about 80 m2 with a terrace and a view of the river, an apartment will be worth from 250,000 to 340,000 €. "The youngest clients, in their thirties, set their sights on the least expensive properties, while older buyers wanting to be close to the town centre sell their house in the country and move into an apartment," concludes Daniel Follain.
You will also like