L'Espace Diamant, at the gateway to Mont Blanc
Between the Massif du Beaufortain and Le Val d'Arly, L'Es­pace Diamant offers 185 km of ski-runs on the slopes of the départements of Savoy, Upper Savoy and the French Alps. An overview of promising property markets at its feet !...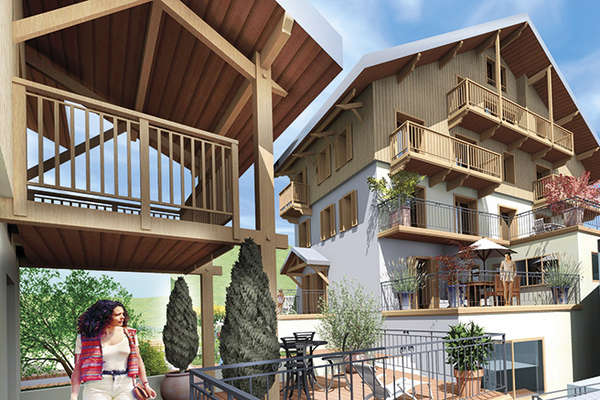 In Hauteluce, the residence "Le Mont Joly" gives access to the domains of both Les Saisies and L'Espace Diamant. It is comprised of apartments offering a stylish blend of modernity and Savoyard authenticity. Some of which offer a view of Mont Blanc. 1-bedroom apartments available from 220,000 €, 2-bedroomed apartments from 311,000 €. Immobilière du Beaufortain (04 79 38 11 70).
"Crest-Voland and Notre-Dame-de-Bellecombe are the most highly-prized communes in our area, as they lie at the foot of the skiing domain of L'Espace Diamant," says Sophie Rebord of the Alpina Immobilier agency, based in Crest-Voland since 1989. "Prices here are therefore higher than those currently posted in Le Val d'Arly. Apartments in good locations are priced at around 4,000 € per sq. metre. The market is relatively stable, and most of the transactions we have handled this year consist of chalets acquired as second residences by clients from the Rhône-Alpes region." Even though there is a wide choice, timber chalets with typically Savoyard architecture are the most highly sought-after properties, especially if they have been renovated to suit today's taste. On offer at around 600,000 €, they benefit from authentic charm exercising lots of appeal. More recent examples built about 30 years ago start from around 400,000 € when in their original condition. Some have been carefully renovated and now offer quality appointments : in which case, they will be priced at around 600,000 €.
Benefiting from a typical Savoy atmosphere, the listed village of Hauteluce (home to the resort of Les Saisies with its efficient infrastructures for tourists) is an excellent choice for those in search of a sound property investment. Providing access to the skiing domains of L'Espace Diamant and Les Contamines, its real-estate market is mainly comprised of chalets. Clients, mostly French, look here for tastefully renovated properties with prices ranging from 700,000 € to 1 million euros. Much narrower, the market for apartments is highly coveted, though properties meeting the expectations of today's clientele are thin on the ground. As confirmed by the success of the residence "Le Mont Joly" : at the time of writing, the first of its two buildings only had 3 out of 9 units still up for sale, and reservations have already been placed for the second building, which will only be delivered at the end of 2017 or early in 2018. "The "Chalets du Mont Joly" attract buyers giving priority to the comfort and convenience of new developments while still being fond of the charm of old buildings. This new address in fact occupies two Savoyard buildings dating back to the early 19th century, at the heart of Hauteluce, facing the baroque church. Their renovation is being carried out with the Architects of Les Bâtiments de France," explains Marie-Pierre Garbay of the Immobilière du Beaufortain agency. Priced from 4,800 to 5,000 € per sq. metre (2-bedroomed apartments from 210,000 €), these apartments, some with views of Mont Blanc, are an appealing alternative for those wanting to pursue an investment combining personal enjoyment and reliable value for money over the long-term.
You will also like