L'Ariège, a "département" between town and mountains
Backing onto Andorra and Spain, L'Ariège has retained its authenticity, traditions and wild scenery. Since 2009, a large part of its territory has formed part of the Regional Nature Park.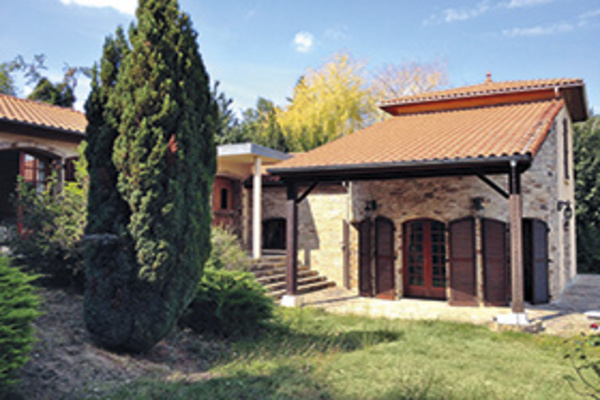 Facing the château of Foix, in a mature garden of approx. 1,400 m2, this residence offers living space of 260 m2 (4 bedrooms, 2 bathrooms). The kitchen opens out to a vast living-room of 90 m2. 378.500 €. Ariège Pyrénées Immobilier (05 61 60 78 33).
The rolling green hills follow in succession from Le Piémont to high peaks at an altitude of 3,000 metres. Fans of the "Tour de France" discover the region's legendary mountain passes. Prehistoric grottos rub shoulders with Cathar castles, medieval villages and Romanesque churches. The site is ideal for relaxation or sports activities in the great outdoors. Bordered by La Haute-Garonne, L'Aude and Les Pyrénées-Orientales, L'Ariège is home to 151,120 people. On the plain, dotted with meadows and cornfields, agriculture is still an important activity. The Pyrenean Piémont then serves as a forerunner to the higher part of the "département", covered with forests. L'Ariège is split into three "arrondissements" : Pamiers, Foix and Saint-Girons. With 18,000 residents, Pamiers is the most densely populated. Benefitting from a train station, it is 64 km from Toulouse, 70 km from Carcassonne. The canals, listed in UNESCO's World Heritage, surround the ancient town centre. The opening of the A66 in 2002 has encouraged economic growth. The centre is always lively ; the shopping mall and its "auto village" bring in quite a lot of visitors, and markets are held every week. The architecture gives priority to red brick : the 17th- and 18th-century buildings, are not lacking in charm. At the foot of the Pyrenees, Foix plays host to some 9,900 inhabitants, numerous administrative and social services : the prefecture, "hôtel du département", school inspectorate, the DDT, DDCSPP, CAF, CPAM, and the head-quarters of the "communauty of communes" of Le Pays de Foix. Ax-les-Thermes offers thermal cures as well as skiing. Here, over 75 % of the accommodation are holiday homes. The 68 natural springs feed three spa establishments, while Ax 3 Domaines proposes 36 ski-runs for a total 80 km. In summer, the spot attracts fans of hiking and mountain biking.
"The building of the motorway brought new firms and residents to Pamiers," says Jean-Jacques Save of Century 21 SDI, one of the largest estate agencies in the "département", with a team of 17 employees. Both rentals and acquisitions felt the impact immediately. Developers soon proposed properties with tax benefits, and to confront this new competition, landlords of old apartments started renovating their properties. Unfortunately for investors, supply caught up and overtook demand, so that rents have not risen since 2007. A 2-bedroom apartment of 80 m2 in very good condition can be found for 85,000-90,000 €. Houses account for 70 % of total transactions. A town house of 100 m2 extended by a small terrace ranges from 100,000 to 110,000 €. A suburban home of 75-80 m2 with a garden of 600-800 m2 on an estate costs from 150,000 to 165,000 €. Out of 80 sales orchestrated by Century 21 SDI since January, 2012, only two bore price-tags of over 200,000 €. Except for a few people working from home and commercial employees not obliged to turn up for work on a daily basis, people working in Toulouse are relatively rare. The pace of sales is satisfactory, despite a decline in the middle bracket as compared to 2011.
"Varilhes, equidistant from Pamiers and Foix, functions much the same, with comparable prices," say Guillaume Durbain and Nicolas Barthez of Ariège Pyrénées Immobilier, an important agency with three branches in Varilhes, Foix and Ax-les-Thermes. The hospital centre, which provides new clients and ensures a certain turnover, is only 1 km away. Surrounded by three little mountains, Foix, a mainly administrative locality, has a limited amount of building land and thus stable prices. A single-storey house of 100 m2 with a garden of 1,000 m2 costs about 200,000 €. Houses and building plots are the most sought-after products. A building plot will be priced at 70 €/m2 in the centre, 30 €/m2 on the hills, which are more generous in this respect. Blocks of apartments are built on a human scale and offer a countrified atmosphere. In Ax, the number of buyers willing to pay for properties outright has risen this year, a sign of confidence in property investment. Offering more apartments, the resort is just a 10-minute drive from the plateau of Beille, the largest cross-country skiing centre in the Pyrenees. Andorra is only 30 minutes away, Barcelona 2 hours 15 minutes. The authorities are making an effort to improve the skiing domain. Fans of downhill excursions like to make their way around the forests, skis strapped on. In the high season, the local population is multiplied by ten.
"Ax-les-Thermes is the only skiing resort in the Pyrenees to benefit from a direct daily connection with Paris. After spending a night in the train, Parisians can indulge in a cure or the joys of winter sports," adds Yann Calot of Pyrène Immobilier. However, most of the buyers come from Toulouse, 75 minutes away, or the Atlantic coast (3 hours). The agency's last five transactions range from 52,000 € - the budget required for a studio of 20 m2 - to 160,000 € - bringing a renovated 2-bedroom apartment in a fully rehabilitated residence in the village. Up to the 200,000 € mark, the cruising speed of sales is encouraging. Livelier all year long, the village draws more interest than the resort itself, especially as a ski-lift takes enthusiasts there in just 7 minutes. A few high-quality chalets, priced around 420,000 €, only account for a tiny share of the sales, whether acquired as second homes or by people working in the Principality of Andorra, charmed by the scenery of L'Ariège. Each acquisition for personal enjoyment is accompanied by the underlying notion of a profitable investment. A property in a good location can be rented out 26 to 30 weeks of the year, bringing a gross return of 14-15 % if it was acquired before 2001, 7 % if acquired from 2007 onwards. This appealing yield in fact means that the area offers hardly any long-term rentals.