Investing in Carcassonne
Crossed by the Canal du Midi, the prefecture of L'Aude owes its renown to its medieval city, restored in the 19th century and listed as part of UNESCO's World Heritage in 1997. While the recent crisis has not spared this commune with 49,150 inhabitants, it nevertheless offers some advantageous and secure investment solutions.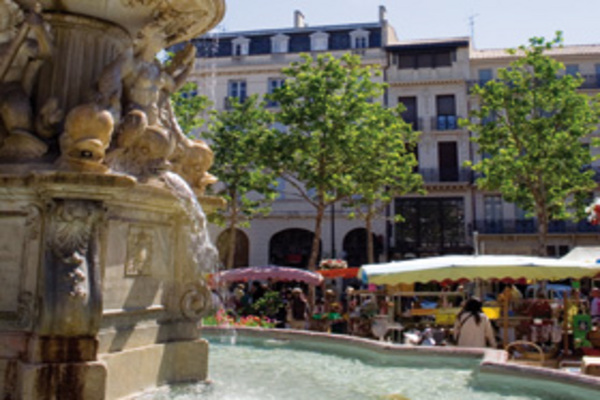 Carcassonne owes its renown to its medieval city, though the modern part of town offers a pleasant setting.
Carcassonne lies 80 km east of the "Pink City" of Toulouse, between the Montagne Noire, Corbières, Le Lauragais and the valley of the Aude, overlooking the Deux Mers motorway and on the Toulouse-Sète railway line. Ryanair runs frequent flights from England, Ireland, Scotland, Belgium and Portugal, much appreciated by nearly 452,160 passengers in 2009. A distinction should be drawn between the lower town on the riverbanks and the upper town, built, as its name suggests, on the hill. It was not until 1247 that the community began to expand beyond the walls of the city, the second most visited in France after Le Mont Saint-Michel, with 2 million visitors. 88 % of accommodation here consists of main residences, 54 % are houses, and 64 % have four main rooms.
"Since the beginning of the crisis, the share of pure investors has tended to decline, especially as the capital of the Aude is not eligible for the Scellier scheme. Furthermore, the delivery of new housing between 2005 and 2008 finally began to saturate the market," explains Pascal Souchet of Century 21 Immo Conseil 11. The 5 % of buyers still looking for investment opport-unities pay from 70,000 to 120,000 € for 1 or 2 bedroom apartments, aiming for a net yield of 5-8 %. From the first quarter of 2010, this target has been possible due to lower prices, still very much the case over the last financial year. The rental market is still buoyant even if landlords face solvency problems, which the government is trying to limit by means of a guarantee system for rental-related risks. Estate-agents encourage owners to offer properties in good condition so that old buildings do not lose too many tenants in favour of new residences. Then 80 % of buyers are looking to acquire houses, from "pavillons" in suburban areas to villas in the country-side and village houses. One such example, comprising four main rooms in Lavalette, extended by a courtyard of 20 m2, just found a buyer at 70,000 €. The same living space near the centre of Carcassonne, opening out to a garden of 200 m2 with garage, costs close on 139,000 €. Generally, this segment of the market does not exceed 300,000 €. On the hit parade of popular neighbourhoods, Pasteur, Les Capucins and Le Palais, within walking distance of schools and the historic heart of town, offer buildings dating back to the 1900's and 1930's. Fans of generous and more recent living space head for Grazailles.
"La Trivalle-Barbacane is also well worth the detour," comments Gérard Berlan of Carcassonne Immobilier. This neighbourhood is not far from the leafy banks of the River Aude, between the modern centre and the medieval city, of which it offers breathtaking views. It draws the interest of both locals and purchasers of holiday homes, attracted by the possibility of a garden. A 1900's house to restore starts at 80,000 €, whereas a property of 200 m2, sold as a whole or split into four or five apartments, with a wooded garden of 200 m2, is worth 300,000 €. The appeal of Carcassonne as a tourist attraction allows investors to exploit their acquisition, without blocking it entirely, as a seasonal rental, a more profitable option provided it is strictly managed. In fact, seasonal rentals do not seem to cause more degradation than year-round occupancy. Homeowners who opt for the latter have everything to gain by focusing on presentation, particularly if they want to minimize vacant periods. For long-term rentals, a 1-bedroom apartment costs 375-425 € per month, a 2-bedroom apartment 475-550 €, and a 3-bedroom apartment 650 €. At this point, the 3-bedroom apartment enters into competition with the villa.
You will also like