Hyper-centre of Bordeaux, in higher demand than ever
In just a few years, the centre of Bordeaux has been transfigured by urban development : creation of pedestrian zones, tramlines... This evolution is accompanied by a real boom in prices on the property market.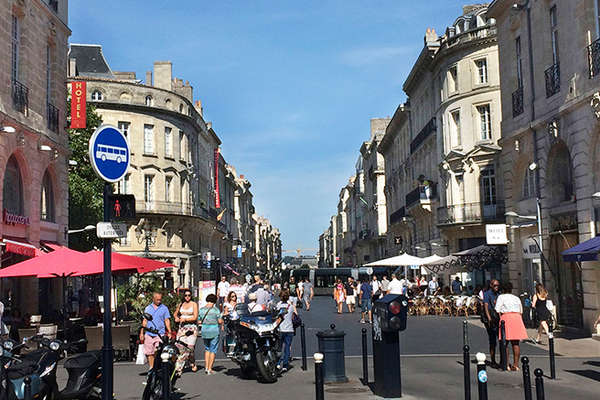 An administrative and commercial centre with a fine architectural heritage, but also a very appealing tourist attraction, the centre of Bordeaux offers a dense concentration of this great historic city.
Based at the heart of Bordeaux's "Golden Triangle" since 2013, the Barnes agency proposes luxury properties and desirable addresses to a clientele comprised of Bordelais and buyers from outside the city, with a large majority of Parisians. "Couples without children, retirees and pre-retirees are very keen on apartments ideally located in the town's highly-prized neighbourhoods : the Golden Triangle and its perimeter, and also Les Chartrons," says Aymeric Sabatié-Garat, the agency's Associate Director. "In constant progression, the fine properties we present currently post prices from 5,500 to 8,500 € per sq.m, with the most exceptional attaining around 10,000 € per sq.m. Families look for houses close to schools with good reputations, and parks such as Jardin Public and Saint-Seurin, and more generally all over the western part of the city, starting from the Garonne. Their most frequent targets are houses from 150 to 300 m2 with gardens. Which cost from 6,000 to 6,500 € per sq.m on average, with the best addresses, especially those giving directly onto Jardin Public, exceeding 9,000 € per sq.m." Our expert emphasizes that clients are now increasingly faced by limited offerings. "We in fact have French clients, currently living abroad, who are now investing in Bordeaux with a view to returning to France in the coming years. They prefer to get their foot in the door immediately if a property suits their needs, for fear that prices will be even higher when they return, and properties meeting their requirements even thinner on the ground."
Based in the Croix Blanche area since 2016, Poulin Immobilier handles commercial premises as well as living accommodation. "Prices in the hyper-centre of Bordeaux are indeed constantly on the rise," confirms the agency's founder, Edouard Poulin. "Our clientele includes Parisians and foreign investors with substantial financial means who are swelling the ranks of potential buyers. Prices per sq. metre in areas on the perimeter of the hyper-centre are rising considerably, and renovation undertaken by this new clientele is more in-depth than in the past, with quality appointments very much on the agenda. We are also confronted by a scarcity of properties on the rental market, with a significant rise in rents for apartments." As an example of recent sales reflecting today's market, Edouard Poulin mentions a 1-bedroom apartment in a residence with parking facilities, built in the years 2000 near the Golden Triangle. Recently renovated, it just sold for 8,510 € per sq.m. "Some of our clients regretted that they had not quickly gone for this property. This example illustrates our market, now really stretched and characterized by too few availabilities and a highly reactive clientele."
Based in Bordeaux for the past 25 years, the independent family group Belin L'Immobilier, specializing in property development in Toulouse and Bordeaux, has built more than 2,500 homes in the metropolis of Bordeaux. Readily acknowledging its status as an "Artisan Promoteur", this enterprise focuses on innovative developments of quality, and handles most of their marketing. It is currently orchestrating construction of one of the hottest future addresses in the centre of Bordeaux : the Palais Gallien Fondaudège, an outstanding undertaking a stone's throw from the Golden Triangle and Jardin Public. "It is in fact a flagship project in the old city centre. Its inauguration will coincide with the opening of the tramline in the second half of 2019, and will thus accompany the rehabilitation of this highly-prized neighbourhood," says agency manager Alexandre Moio. Occupying the former site of the Marie Brizard factory, this development will host high-end apartments, but also commercial and professional premises, including an accelerator for start-ups. Rehabilitated by the LAH/AT firm of architects, the property will retain a good number of its original architectural features, including a remarkable Eiffel-like hall. "So far, about 70 % of the lots have been sold, intended as main homes for buyers from Bordeaux looking for high-end residential properties. About 20 apartments are still available, priced from 6,000 to 7,300 € per sq.m depending on the floor, outlook and surface area." In parallel, Belin L'Immobilier proposes Opéra Chartrons, a small development in contemporary style, consisting of 21 apartments between Chartrons and Grand Parc. Partly designed as accommodation for young first-time buyers, these apartments with 1 to 3 bedrooms have mostly been offered at controlled prices (much lower than the going rate), in fact at 3,000 € per sq.m !
You will also like