Hyères : stable prices and good momentum
In the early 20th century, this town known for its palm-trees was one of the favourite seaside resorts of many members of France's middle class and intellectual elite. Magnificent Victorian residences surrounding the medieval town testify to this sumptuous past and endow Hyères with unique charm.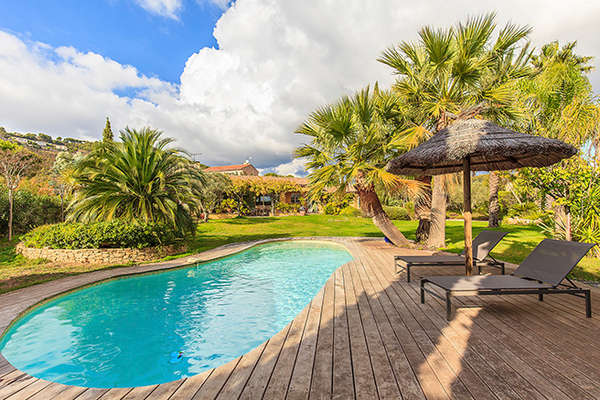 Close to the beach of L'Almanarre, this charming 1-storey villa of 140 m2 stands in very private grounds of 1,500 m2 with a pool. 852.800 €. Agence Verdino (04 94 01 30 50)
Hyères runs along the coast between Toulon and Le Lavandou. With a shoreline 39 km long unspoilt by unsightly concrete constructions, the commune stands out for its sandy beaches and wild rocky coves. The lively economy of this town with close on 57,000 residents revolves around cultivation activities, tourism, commerce, public services and healthcare.
Based in Hyères since the 1960's, the Agence Verdino is now run by Carole Verdino, the third generation of this independent family-run enterprise, offering expertise in transactions in Hyères and its surrounding area : Carqueiranne, La Londe, Bormes Les Mimosas, La Crau, Pierrefeu... "We are a team of three women who have gained in-depth know­ledge of the area over many years." After registering a price decline of 10 to 15 % over the past two years, the market in Hyères now seems more stable with new price brackets bringing greater dynamism. "In addition to foreign buyers, Belgian, English..., our clients are mainly French, especially from Paris, Lyon, and their surrounding areas. When they retire, they sell their homes in the cities and arrive on the market in Hyères with comfortable budgets enabling them to set their sights on the most desirable properties we can propose, corresponding to the new lifestyle they are searching for." In Hyères and its nearby areas (posting pretty much the same prices), a budget from 550,000 € to over 2 million euros, depending on the surface area and lcoation, allows buyers to target a villa on the hills, offering quality appointments and a sea view, or a town house - a former master residence or a property of character built in the late 19th century or the 1920's/1930's. "Foreigners are particularly keen on them," says Carole Verdino. In Hyères itself, prices vary significantly depending on the neighbourhood. For example, an apartment to renovate in the Old Town or a central 1970's residence will cost from 2,000 € per sq. metre, while an apartment or villa on the front row facing the sea may well be pegged at 6,000 € per sq.m or even more, depending on its attributes.
"The market in Hyères is in fact benefiting from good momentum for all kinds of properties," says Cyrille Tizon of the Cabinet Immobilier Ripoll, a firm set up in 1966 in Hyères, which has developed to cover all aspects of real estate while retaining its independence and its character as a family-run enterprise. "In addition to retirees who comprise the core of our target, we are seeing a comeback on the part of a younger clientele consisting of the locally employed looking for year-round homes. We have recently handled a good number of sales of apartments acquired by first-time buyers with budgets ranging from 130,000 to 160,000 €, and villas priced under 400,000 €." By way of example, Cyrille Tizon mentions a 1-bedroom apartment priced at 128,000 € and a 3-bedroomed apartment at 155,000 €, both in residences without lifts, built in the 1960's, and a villa which sold for 265,000 € in the neighbourhood of Le Pyanet. "We also offer high-end properties such as a penthouse currently up for sale at 780,000 €. In a residence benefiting from a landscaped park with ornamental ponds, this 3-bedroomed apartment of 120 m2 offers refined appointments and two garages in the basement."
You will also like