Hyères-les-Palmiers, a very popular address
Facing the islands of Porquerolles, Port-Cros and Le Levant, at the foot of the Massif des Maures, Hyères runs along the shore between Toulon and Le Lavandou. Offering a coastline 39 km long with a pleasing lack of concrete, the commune is known for its sandy beaches and wild, rocky creeks.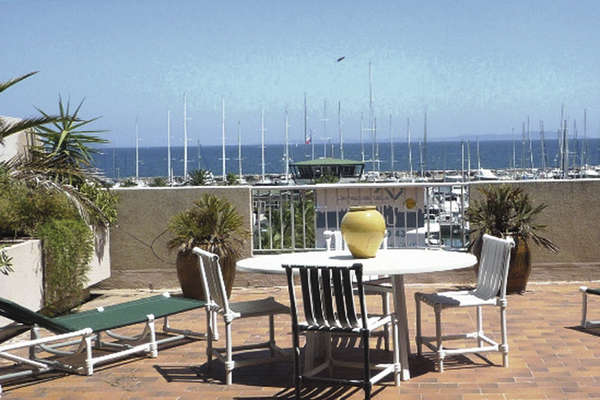 Offering a sweeping view of the sea and islands from its terraces totalling 90 m2, this bright split-level apartment with a parking place in a gated residence on the port has just been sold. 474 000 €. L'Échappée Bleue Immobilier. (04 94 23 90 43).
At the beginning of the 20th century, the "city of palm-trees" was one of the favourite resorts of part of France's intellectual and upper-middle class elite. Magnificent Victorian residences around the edge of the medieval town bear witness to these hours of glory, and still endow Hyères with unique charm. The go-ahead economy of this town, lively all year round, revolves around horticultural activities (palm-trees, flowers and vines), tourism, commerce, the service sector and healthcare services. Tourists appreciate the yacht harbour, the beach of L'Almanarre, highly-prized by kitesurfers and windsurfers, the Giens peninsula, and cultural events of international quality held, in particular, at the Villa Noailles, a fine example of the rationalist architectural movement, designed by Robert Mallet-Stevens.
"The property market in Hyères is currently very buoyant. Our sales volume is higher than it was last year," says Cyrille Tizon of the Cabinet Immobilier Ripoll, created in 1966. "Mostly comprised of retirees, our clients are looking for permanent homes. Rental investors and buyers of holiday homes are also active on the market in the town centre." Encouraged by an overall price decline of around 15 % on average and interest rates that are still very low, buyers are now deciding to take the plunge. The latest sales handled by the agency were evenly balanced between houses and apartments. By way of example, a few of its recent sales in the town centre, reflecting market prices for the end of 2016, include a fully renovated house of 110 m2 which sold for 495,000 €, and a 2-bedroomed apartment with a garage, priced at 285,000 €. Investors target small surface areas, such as a studio of 28 m2 which sold for 76,000 €, and apartments requiring total renovation, such as one example with 2 bedrooms and a garage, which found a taker at 136,500 €.
L'Echappée Bleue Immobilier focuses its attention on the harbour and seafront. Six km from the centre, the harbour offers different types of accommodation and prices. "The typical property is a 1- or 2-bedroomed apartment in a select residence, sometimes benefiting from a pool, and close to the beaches," says agency manager Stéphane Navarro. A 1-bedroom apartment is available at around 170,000 €, others with 2 bedrooms can be had for 270,000-300,000 €. A few outstanding properties also have their fans, such as a split-level apartment of de 83 m2 with a terrace of 90 m2 offering a panoramic sea view, which just sold for about 470,000 €. Stéphane Navarro has noticed renewed interest in holiday homes, especially as the commune can rely on sunshine, the sea, a harbour, and the closeness of a train station and airport. Demand for houses is particularly steady along the beaches of La Badine, La Capte and La Bergerie, as far as the Giens peninsula. "A good number of examples in need of renovation are on offer from 400,000 to 900,000 € depending on their size, condition and location." At the tip of the peninsula, the beach of the Port du Niel and the gated estate of La Polynésie are prime addresses. Large properties basking in the sun are proposed here from 1 to 2 million euros.
You will also like