Houses in Nîmes and the nearby countryside
This town with seven hills is one of the most affordable addresses in the South of France. On the Domitia road built by the Romans, the prefecture of Le Gard is 32 km from Arles, 44 km from Avignon and 54 km from Montpellier. A real melting-pot of Roman, Spanish, Camarguais, Cévenol, Languedocian and Provençal influences, Nîmes stands at the centre of a rural area not lacking in charm. Two thousand years of very colourful history...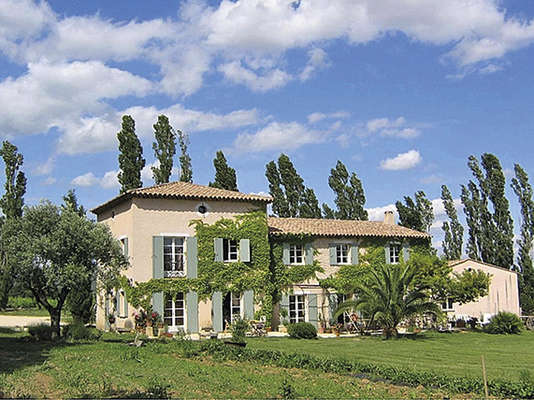 Set in grounds of 23,600 m2 with a pool, this Provençal "bastide" (lounge of 62 m2, three bedrooms and an interconnecting "gîte") offers a magnificent view of the Gardon gorges. The main residence stands next to a second "gîte" of 140 m2, fully renovated, and a third of 50 m2. 885.000 €. L'Agence Prestige International (04 66 29 88 61).
The capital of Le Gard is home to 146,000 inhabitants, with its greater urban area comprised of 22 localities accommodating 236,000 people. The arrival of the TGV in 2001 boosted demand and inevitably population figures, which have risen 8 % intra-muros. Nîmes does not rely solely on its architectural heritage and quality living standards to further its appeal. The accent here is on IT and nanotechnologies to attract companies, while also developing the student sector. Retirees and the actively employed, locals and holiday home-owners share the housing market.
"The real problem in the sector comprised of houses is the introduction of the RT 2012, which has inevitably led to higher construction costs and a consequent slowdown in demand in January and February, 2013," comment Cyril Florac and André Marthan of property builder M.A.T. The need for housing nevertheless remains constant. In Le Gard, the average budget is around 190,000 €, which includes acquisition of a plot, construction of the house and notary's fees. In Nîmes itself, a non-serviced plot in a 2000 zone costs from 180,000 to 230,000 €. Once outside the prefecture, within a 15-km radius, prices drop. By way of example, 600 m2 for a floor area of 180 m2 at most cost 130,000 € in Manduel, 387 m2 on a sub-division in Beauvoisin 92,800 €. With a budget of 190,000 €, one can still find solutions. Under that level, it becomes rather complicated. In fact, a home of 88 m2 with three bedrooms, fitted bathrooms and WC, starts from 88,000 € without any land. Only 30 % of sales of new houses attain or exceed 150,000 €, again without any land. The difference makes it possible to play on the surface area and architecture more than on utilities. In this category of housing, the share of people from outside the "département" looking for holiday homes is virtually non-existent. The clientele is almost exclusively comprised of locals, either actively employed or retired. The trend is clearly not towards a reduction of building land, but more towards splitting it into small plots. While applications for building permits are declining, professionals find salvation in commercial redeployment, the development of networks and the multiplication of main roads and means of communication.
Serge Dujardin, director of L'Agence Prestige International, and sales manager Sandrine Sanchez are based in Saint-Gilles in the Camargue, exactly 15 minutes from Nîmes and Arles. This site attracts two types of clients : Parisians plus Belgians, Swiss and Luxembourgeois, drawn by colourful Camargue folklore. With budgets ranging from 300,000 to 500,000 € for holiday homes, they target properties of character, such as a fully renovated "vigneronne" of 250 m2 in grounds of 800 m2, priced at 445,000 €. Retirees from within the "département" or the northern half of France pay from 200,000 to 300,000 € for their homes. For 230,000 €, they obtain a modest "pavillon" of 80 m2 with a garden of 300 m2. For a little more, they can get larger living space and better appointments. First-time buyers capable of paying 80,000 to 150,000 € and willing to take on a certain amount of renovation are finding things hard, which also has an impact on overall activity. It seems, in fact, that banks are imposing harsher conditions. By way of example, one buyer hoping to acquire a home priced at 97,000 €, able to pay a deposit of almost 10 % and earning a monthly salary of 1,400 €, was recently refused a loan. At the lowest end of the scale, the area is cheaper than Nîmes and much less expensive than La Vaunage.
You will also like