Hossegor, in search of balance
45 minutes from the Spanish border, 30 minutes from Biarritz airport, Hossegor benefits from a privileged location between forest and ocean. In the course of a century, the commune became one of the flagships of the Côte d'Argent, drawing not only surfers but fans of the greens.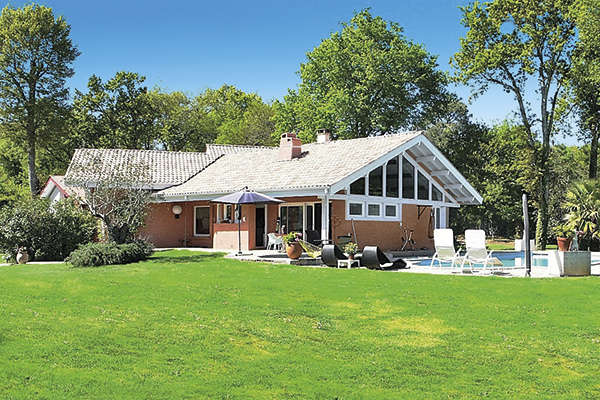 At the edge of the fairways, this architect-designed villa of 280 m2 benefits from a park of 3,200 m2 with a swimming pool. 1.740.000 €. Agence des Golfs (05 58 43 04 00).
Sandwiched between Seignosse and Capbreton, Hossegor is a commune on the coast of Aquitaine whose reputation has travelled well beyond the frontiers of France. Ideally located between forests, the ocean and a lake, this seaside resort, the European capital of surfing, unfurls a year-round agenda of cultural and sporting events, ranging from Quiksilver Pro trials to the Grand Prix des Landes golf tournament, and a Book Fair held every summer at the Sporting Casino. In the midst of its exceptional natural heritage, especially on the shores of the marine lake, sumptuous villas are to be found in Basco-Landaise or ultra-contemporary style.
"Premium properties, for which one has to part with over 1 million euros, are not selling easily at the moment," says Franck Sellier, manager of the Agence des Golfs he founded with his partner, Jérôme Lassabe. "This is due to a very clear gap between the prices sought by sellers and offers dictated by a market which is trending lower on a national scale.". The agency's clients include many French buyers from the Parisian region, together with English, German and a few Russian clients looking for their perfect home between lake and sea. "On the other hand, we have noticed that potential buyers dispose of increasingly solid budgets and often want to pay cash. They are, however, highly demanding : it's not rare for an offer of 800,000 € to be made for a property up for sale at 1 million euros - between the lake and sea, or at the edge of the fairways. The result is a complex and sluggish market, especially as these transactions mainly concern holiday homes, with neither of the two parties in any hurry to find accommodation," explains our specialist, who mentions for example a villa of 175 m2 with a garden of 500 m2, in a desirable location near the beaches ; a property which just sold at market price, ie. 800,000 €. "When the price corresponds to current estimates, a property will sell." Those pegged from 400,000 to 600,000 € are easier to handle. In this price bracket, some buyers let themselves be tempted by neighbouring markets, especially that of Seignosse, proposing a pleasant wooded setting, beaches, a golf-course and lower prices : one house on the beach was recently acquired by a French buyer for "only" 380,000 €.
This observation is shared by Serge Pilke of the Terres et Océan agency. "There is still demand for outstanding properties, though the clientele is demonstrating both prudence and patience. In all cases, quality transactions go through when properties meet all the client's expectations," says this estate-agent, who has just completed the sale of a 1970's villa of 300 m2 offering a sea view and grounds of 2,500 m2, just 1 km from the beaches. Without any bargaining, a Parisian who fell for its charm paid 1,470,000 € to treat himself to the Hossegor home of his dreams. Over the past few weeks, outstanding new addresses have thus been appearing on the market. As evidenced by a contemporary villa with very refined appointments, set in grounds of over 4,000 m2 between the town centre and the beaches, up for sale at slightly over 2 M €, and another property also priced around 2 M € due to its fabulous views of the ocean and lake. In fact, as summer is propitious for lots more visits, both sellers and estate-agents are coming up with ever more pedagogy and communication strategies to show off their properties. On the watch for buyers in search of a "gem", they pay more attention than ever before to each and every offer.
You will also like