Hossegor, holiday homes between golf-courses and the ocean
A seaside resort of international renown, Hossegor is a sound investment on the Côte d'Argent. Blending charm and quality, its real-estate market attracts many Frenchmen, surfers or golfers, who dream of acquiring holiday homes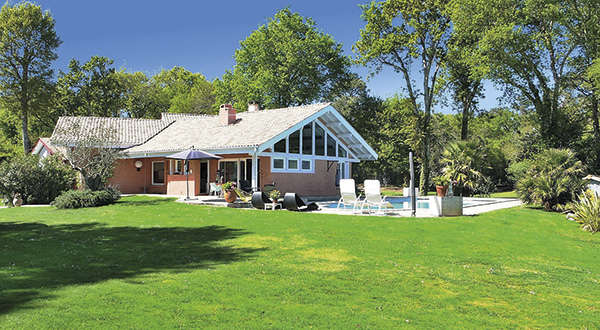 This outstanding property stands at the edge of the fairways. 1.740.000 €. Agence des Golfs (05 58 43 04 00).
Welcoming the world's best surfers each and every year, this town is also in the process of becoming an address instantly recognized by golfers all over the world. For the occasion of the Ryder Cup - a top-level event between Europe and the USA - to be held in France in 2018, it is in Tosse, just 5 km from Hossegor, that one 9-hole and two 18-hole golf-courses are going to be built, together with an hotel resort and a top-notch property complex. Thus equipped, the area around Hossegor will offer all the amenities to become an essential port-of-call on international tours, while also drawing more fans of this high-end sport.
Franck Sellier, who created L'Agence des Golfs with his partner Jérôme Lassabe, has always looked upon Hossegor as a golfers' destination. Since launching his agency three years ago, he has set up several partnerships - to the advantage of sellers -, targeting fans of the little white ball, among whom he finds potential purchasers of prop­erties conveniently located close to the golf-courses of Hossegor, Seignosse and Moliets... "This specialisation enables us to contact quality buyers with comfortable budgets." In almost all cases, these clients are looking for second residences. From Paris, Toulouse or Lyons, they are in no hurry, and are keen to unearth their ideal home. "The area "between lake and sea" is the most highly sought-after. Even people who do not know the region well enquire about it first. This market is blocked, no more building can be done, so as soon as a property becomes available, it never stays for long on the market. We signed a contract with a seller last Friday, and a serious potential client showed definite interest on the Saturday," explains our expert. Another popular area, the east shore of the Lake offers a different market featuring, in particular, numerous new properties. Here, a few former camping sites have been transformed into scores of individual lots of 1,500 m2 each, priced from 400,000 to 500,000 €. In this zone, one can also find a few small houses built in the 1950's. With living space of 120 or 130 m2 and gardens of 500 m2, they are also worth from 400,000 € to 500,000 €. They are a charming alternative to apartments which, in the centre, are proposed on average from 140,000 € for one main room to 270,000 € for three main rooms.
Specializing in houses of character in prime locations, Serge Pilke, manager of the Terres et Océan agency, comments that 2014 is following on smoothly from 2013. "The market certainly saw a slowdown this winter, but since March, we have seen a real recovery. Buyers, both French and foreign, are still there." Among his most recent sales, he mentions a Basco-Landaise house of 220 m2 to renovate, built in the 1950's. Situated in the famous area "between lake and sea", in grounds of 1,300 m2, it was the subject of a successful acquisition with very little bargaining by a Parisian client who paid under 1 million euros to make it his holiday home. Another example : that of a client who has just treated himself to lovely villa of 215 m2 built in the year 2000 for a little less than 900,000 €. This property underwent however a long period of negotiation due to a slight problem of noise, which obliged the owner to lower his price. "Location is definitely of prime importance, though even so buyers are not prepared to pay top dollar. They are perfectly informed about the market," says our expert, who now deals with a market which has seen something of a clean-up. "The vast majority of the villas we propose now post prices that have been fairly estimated."
You will also like