Hossegor, for holidays or year-round living
In the forest of Les Landes, at the edge of the ocean, Hossegor is the most widely known commune in the département. The French capital of surfing, this seaside resort is synonymous with a modern art of living combining a healthy mindset, nature, sport and a certain intellectual elitism. A magnet for city-dwellers in search of a new life-style...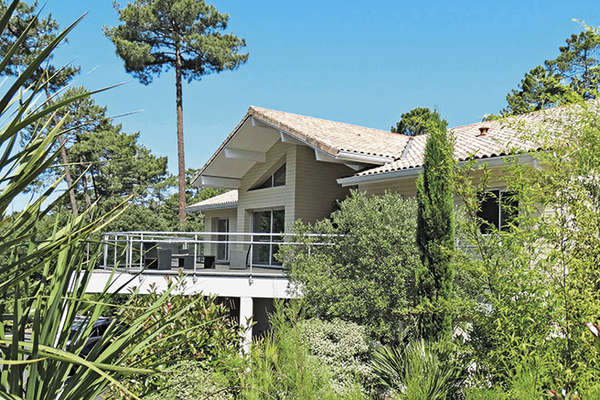 In a quiet residential neighbourhood in Hossegor, this contemporary villa of 192 m2 is set in landscaped grounds of 1,500 m2. It comes with a self-contained apartment and annexes. 1.295.000 €. Agence Terres & Océan (05 58 43 60 41).
Until the early 20th century, these pine forests at the edge of the Atlantic Ocean were home to just a few tumbledown cottages. The arrival of writers in search of silence and solitude changed the destiny of this small commune, which became an uppercrust literary rendez-vous well before surfers invaded the shores. The literary association of the "Amis du Lac d'Hossegor" continues to perpetuate this tradition. In the 1930's, Hossegor witnessed the construction of master residences in its centre, in a specific neo-regionalist style called "Basco-Landais". These villas contributed towards the commune being listed as a seaside resort of genuine charm. Then came the Casino and a golf-course, popular among the aristocracy. This image of a sporty but elegant seaside resort still applies, and has been broadcast internationally ever since Hossegor began to host the annual world surfing championships in September, as well as the headquarters of specialized brands such as Rip Curl and Billabong. While locals tend to live in the bourg of Soorts, the town's other neighbourhoods are comprised of numerous holiday residences.
"Growing demand for acquisitions of year-round homes, especially on the part of Parisians, is being confirmed as a trend that is likely to take root," says Alexandre Baylaucq of the Maisons du Sud Ouest agency. Its clients, comprised of members of the working population in their forties, are looking for quiet villas, ideally in contemporary style, with budgets of around 700,000 €. Some make an effort with regard to the address, falling back on Seignosse or Capbreton where prices are 15 to 20 % lower. "In Hossegor, owners still tend to demand high prices, resulting in a considerable watershed and bargaining that is sometimes quite tough." Houses on offer this side of 1 million euros usually have a better chance of finding takers. By way of example, Alexandre Baylaucq mentions a villa of 220 m2 set in grounds of 1,000 m2 in the highly-prized area of the Plage des Estagnots north of Hossegor. Offering 5 bedrooms and within walking distance of the beach, it meets the criteria most frequently applied by buyers. Up for sale at 830,000 €, it should soon find a new owner.
"2015 chalked up real progress, and the start of 2016 is confirming the trend," comments Serge Pilke of the Terres & Océan agency, which is inaugurating a new branch in Biarritz this month. "In the last quarter of 2015, activity intensified and sales of houses ranging from 500,000 to 2.5 M € were completed." This agency's buyers, mostly French, are looking for pleasant holiday homes between the lake and sea, or in the golf-course area. "Prices are tending to stabilize for all types of properties, and some of our clients, whom we have occasionally followed for several years, are taking the plunge." Like one company director from Paris, who has just parted with just over 2.5 M € to treat himself to a Basco-Landaise villa of 400 m2, offering lots of character, a beautiful view of the lake, and a very convenient location between the town centre and the beaches.
You will also like