Hossegor, a market full of contrasts
Ideally located between the forest and Atlantic Ocean, a few kilometres from the border with Spain, Hossegor is a highly-prized address on the Côte d'Argent. Surfers, golfers and fans of a chic seaside life-style come here looking for holiday homes. Though not just anywhere...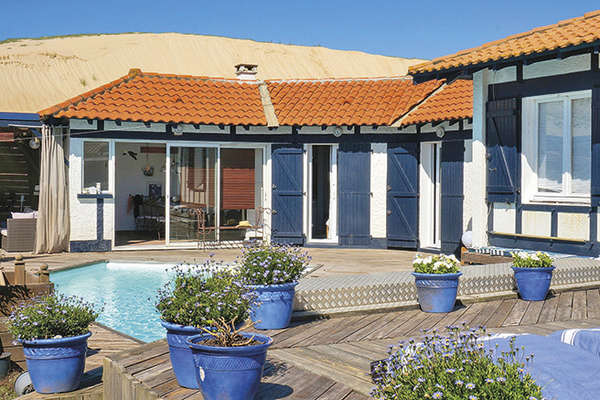 Within walking distance of the beach, this sunny air-conditioned house proposes 5 bedrooms, a summer kitchen, a pool and even a "boulodrome" ! 750.000 €. Maisons du Sud-Ouest (05 58 49 86 86).
In the 1930's, the centre of Hossegor witnessed the appearance of impressive houses in a specific neo-regional style called "Basco-Landais". These residences featured large windows, loggias and terraces basking in the sunlight, all contributing towards the town's reputation as a seaside resort of particular charm, especially as a Casino and a golf-course nestling at the heart of the Landes forest were inaugurated around the same time. Prized by the aristocracy and a well-heeled clientele, Hossegor cultivated its image as an elegant and sporty town. Each year, in September, it hosts a leg in the world surfing championships. It is, in fact, here, that the specialist brands Rip Curl and Billabong, as well as the French Surfing Federation, have installed their head offcies.
"The local market is clearly split in two," says Julien Moser of the Moser et Sables agency. "The town centre, the area between the lake and ocean, and that around the golf-course, comprise the premium market characterized by enviable holiday homes. The village of Soorts, evidently ignored by those looking for holiday residences, is more a market for year-round homes for the few local buyers. 2014 proved to be a year of transition. Activity is picking up and the trend is confirmed by the presence of determined buyers with comfortable budgets, often able to pay cash. From Paris, Toulouse, England and Switzerland, they are in search of holiday homes suitable as year-round residences for when they retire. In any event, they are firmly set on their choice of neighbourhood." The market is not, however, flowing along smoothly, as everyone focuses their attention on the same areas. Available properties are naturally becoming scarce, with those that are up for sale requiring renovation. "Most of the villas were built from the 1950's to 1970's. They come onto the market in their existing condition when the owners pass away." Despite this ageing array of properties, prices remain steady and transactions are often concluded without any bargaining. It is virtually impossible to find a family villa under 500,000 €. On the other hand, in the village of Soorts, just nearby, the prices posted are diametrically opposed. Properties with the same amount of living space with gardens of 700 to 800 m2 can be found on the right side of 300,000 €. What about apartments ? A few new residences in the centre have met with real success, especially among retirees looking for modern comfort with everything within walking distance. Apartments here cost from 5,000 to 6,000 € per sqm.
"In the area between the lake and the sea, prices are in fact beginning to take off," comments Alexandre Baylaucq of the Maisons du Sud-Ouest agency. "Demand is so steady that desirable properties are becoming thin on the ground." By way of example, he mentions a 4-bedroomed house of 120 m2 on offer at 775,000 €, and a luxurious and impeccable property of 250 m2 priced at 1,790,000 € due to its top-notch appointments. He also points to a new trend. Following the recent division of a former campsite into plots, several dozen of them appeared on the market, giving a boost to this particular sector. "On average, these plots of land range from 300 to 400 € per sqm," explains our specialist, citing one example of 3,265 m2, of which 1,713 m2 can be built upon, edged by the forest at the end of a private path, and priced at 420,000 €. These new opportunities should appeal to clients ready to invest around 1 million euros in their second residence. They could build the contemporary home of their dreams here, with the certainty that they are making an excellent long-term investment.
You will also like