Hossegor, a blend of luxury and charm
On the shores of the Atlantic Ocean, backing onto the forest of Les Landes, this seaside resort prized by surfers the world over boasts many outstanding homes. From the typical Hossegor style to new ultra-contemporary houses, a survey of its desirable residences.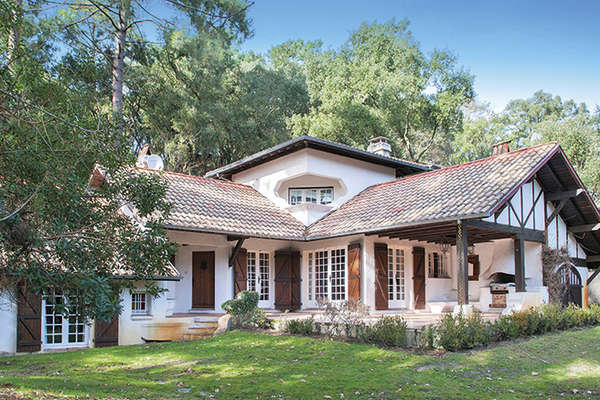 This villa of 147 m2 features a double lounge of 48 m2 with a hearth. It was built by architect François Gassan, a local reference. 840.000 €. Maisons du Sud-Ouest (05 58 49 86 86).
A charming house in Hossegor usually means the Basco-Landaise style created in the early 20th century by well-known regional architects such as Louis Lagrange, the brothers Louis and Bejamin Gomez, Robert Maurice or Claude-Henri Godbarge. They built a good number of holiday homes which are still highly-prized today. "Buyers looking for a charming, stylish residence specify either an ultra-contemporary villa or an authentic Basco-Landaise house," says Serge Pilke of the Agence Terres & Océan. Fine examples of Basco-Landaise architecture are usually enthroned in the midst of a park. The lower parts of these villas are built of stone masonry, with the upper walls clad in a white roughcast finish. The eaves are crowned by overhanging roofs, decorated underneath by so-called "fern leaf" struts. The windows are usually large, and most often these villas benefit from loggias and terraces for enjoying the outdoors. "Depending on their address, size and condition, typical Basco-Landaise houses range from 500,000 to well over 2 million euros for the most magnificent examples, at the edge of the lake or golf-course," explains our specialist. He mentions one Basco-Landaise property of 160 m2 a short walk from the town centre. Offering 5 bedrooms and set in flat wooded grounds of 900 m2, it is up for sale at 850,000 €. Another example built in the 1930's by a renowned architect has just been sold for 1,025,000 € by the Agence Terres & Océan. "Offering living space of 175 m2 in grounds of 1,980 m2, ideally located between the lake and the sea, it is a perfect example of a property with the charm so typical of this commune."
Since the start of the month of April, Alexandre Baylaucq of the agency Maisons du Sud Ouest has observed a clear pick-up in enquiries from clients in search of the perfect holiday home. "Committed to buying, some of them rented lovely properties last summer. They are back with comfort­able budgets and the firm intention of acquiring a select second residence." He has also noted a rise in the number of clients prepared to invest from 1 to 3 million euros. Whether French, English or German, they are all looking for tranquillity, a view and generous living space. Those who can't find their ideal home do not hesitate to build prestigious properties, often ultra-contemporary, mainly on the famous dune. The result is the creation of stocks of top-notch residences. By way of example, Alexandre Baylaucq mentions one villa on the dune offering an enchanting view of the ocean. With its 5 bedrooms, 3 lounges, a pool overlooking La Canopée and a basement of 100 m2, it offers many possibilities for development or restructuring. Priced at 1,790,000 €, it is a high-class property with lots of character. Another house designed by an architect in the 1970's proposes noble materials. Extremely well maintained, it has graciously stood the test of time and is still very modern with its typical wood-clad façade. Offering living space of 150 m2, it is comprised of 4 bedrooms including a master suite with a walk-in closet, bathroom, study and private terrace. In a sought-after neighbourhood near the lake and town centre, it is up for sale
at 840,000 €.
You will also like