Haguenau and its surrounding region : more affordable than Strasbourg
While only 30 km from Strasbourg, Haguenau nevertheless posts much more appealing property prices. The fourth largest town in Alsace (and second largest in the Lower Rhine) is thus regarded as a typical fall-back market.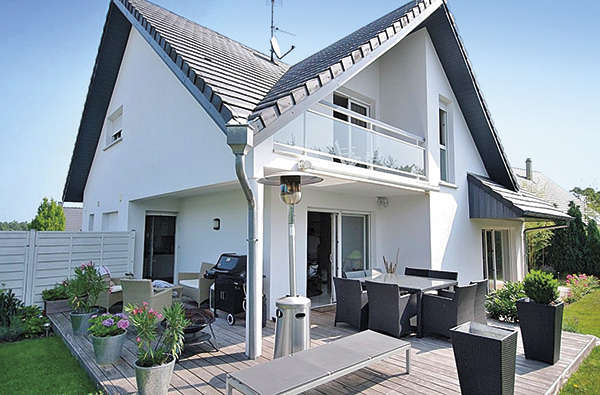 5 minutes from Haguenau, this modern house of 170 m2 comes with a garden of 600 m2. 488.000 €. Immoteam (03 88 05 21 25).
Home to about 35,000 residents, Haguenau is an agglomeration offering all the facilities of modern life : shops, services, easy access to the A4 motorway (linking Paris to Strasbourg), schools, universities (IUT) and a hospital centre... The town even boasts its own aerodrome. It also plays host to numerous enterprises and industrial firms, including Siemens, which in fact makes it an attractive pool of employment. Its main advantage, however, is its closeness to Strasbourg.
"The capital of Europe is only a 20- or 25-minute drive away. Even so, prices are much lower here," says Alexandre Bourgard, manager of Groupimmo and the only estate-agent in Haguenau who is also a property surveyor. "For example, a studio in Strasbourg costs about 80,000 €, whereas an equivalent property in Haguenau can be had from 45,000 to 50,000 €." These price levels are especially appealing to rental investors, "as the difference between rents is very slight between the two towns. The renting out of studios, widely sought by students, is thus a profitable investment." In the case of apartments, the price per sq. metre ranges from 1,900 to 2,100 € in old buildings. "In new residences, it can attain 2,800 €." Houses are pegged around 2,200 € per sq. metre. "The most sought-after home is a 3-bedroomed house with a garden of at least 400 to 600 m2, priced between 250,000 and 300,000 €." Alexandre Bourgard's most typical clients are couples with one child. "They are usually first-time buyers if they are looking for apartments, or already home-owners if they intend to acquire a house."
Julien Schneider, manager of the Immoteam agency, confirms the competitiveness of prices in Haguenau versus those posted in Strasbourg, with "the price per sq. metre starting in old buildings at 1,500 €". Covering a radius of 30 km around Haguenau, he specializes in the upper end of the market : "We propose top-notch properties up to 1 or 2 million euros, whereas other agencies usually limit themselves to houses priced up to 350,000 €". His portfolio currently contains, for instance, a house of 200 m2 in 1,500 of grounds with a heated pool, at 595,000 €. A 1-bedroomed apartment in an old building in Haguenau can be found for 90,000 to 120,000 €. "For 2 bedrooms, one can expect to pay from 130,000 to 200,000 €." And on the surrounding communes ? "Prices are then 5 to 20 % lower." Building plots in Haguenau are pegged around 25,000 € per 100 sq. metres. Julien Schneider has a very diverse clientele : "We receive as many enquiries from first-time buyers and rental investors as from purchasers of their third or fourth house. They all share one thing in common : their demands are constantly
on the rise".
You will also like