Guéthary, the "little Saint-Tropez" of the Basque coast
On the Atlantic shore, between Biarritz and Saint-Jean-de-Luz, Guéthary is a delightful seaside resort that has retained all its picturesque charm. Renowned internationally for its impressive waves, the Parlementia beach draws surfers from all over the world...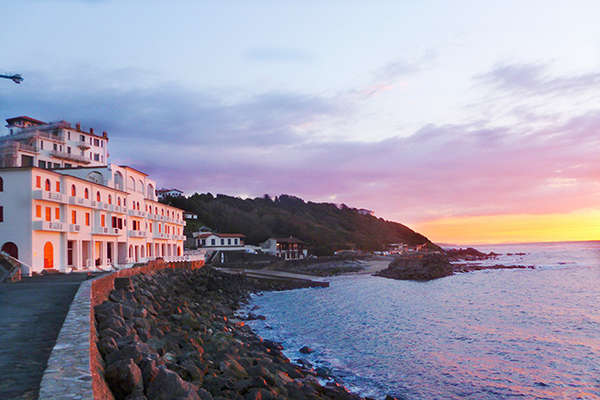 In Guéthary, in this residence on the front row facing the ocean, an apartment of 37 m2, refurbished as new, offers a bedroom, loggia, mezzanine, walk-in closet, and a fitted kitchen opening out to the living-room. 450.500 €. Guéthary Immobilier (05 59 54 70 03).
Opening out to the ocean, the smallest village on the Basque coast was first a whaling port then a fishing village before becoming a charming seaside resort. Nicknamed "the little Saint-Tropez", Guéthary certainly feels the up-market effect of its illustrious neighbours, although it is also a commune chosen by many buyers, both French and foreign, who appreciate its laid-back lifestyle. Mainly comprised of houses, its property market offers charming architecture dominated by the neo-Basque style.
"Living here is very pleasant all year round, and in the summer the village livens up in a friendly atmosphere. Our 12 restaurants are meeting-points for families who love to get back together each year," explains Chantal Marthan, who opened Guéthary Immobilier in 2004 on this commune with about 1,400 residents. "As for all communes on the coastal strip, the market is tight. Buyers - from Paris, Bordeaux, Lille, the UK, and a good many ex-pats -, come up against scarce offerings, and we are actively searching for new houses to meet demand. The rarity of available properties affects prices, although even if those in the best locations are seeing a slight rise, sales go through quickly when properties are fairly estimated." 4-bedroomed houses with small gardens start from 800,000 €. By way of example, Chantal Marthan mentions the recent sale of a villa of 200 m2 to renovate, priced at 820,000 €, with a garden of 750 m2 and a pool, in the post-office area. On the same street, a house of 165 m2 in good condition, with a garden of 640 m2, found a taker at 1,210,000 €. Near the church, on the other side of the Route Nationale, houses in sizable grounds post more appealing prices compared to their living space. As illustrated by a house of 270 m2 in grounds of 3,690 m2, on offer at 1,590,000 €. "The same property near the sea would easily have been priced at 2.5 or 3 million euros," says Chantal Marthan.
"Guéthary is a special address in terms of real estate : you could say it is the "little gem" of the Basque coast. The village has succeeded in preserving its authenticity, even though in summer many tourists flock to its three pebbly or sandy beaches. A victim of its own success, it now has few properties for sale, and prices are rather high," says Christophe Passieux, manager of the Agence Laforêt in Saint-Jean-de-Luz, which covers the area from Hendaye to the south, Guéthary to the north, and Saint-Pée-sur-Nivelle further inland. "Supply is in fact significantly lower than demand, though buyers are often patient, waiting for the slightest opportunity. Our clients are mostly French, in their fifites, looking for a second residence which will become their main home when they retire. These buyers are looking more for houses set back a little, inland, but within a few minutes' drive of the coast. We also have families with parents in their forties, looking for small 1-bedroom apartments where they can enjoy their holidays and weekend breaks. On the far side of the Route Nationale, you can still find a few apartments at more reasonable prices."
You will also like