Grimaud's different property markets
Ideally located at the heart of the Gulf of Saint-Tropez, at the edge of the Massif des Maures, the old village of Grimaud has succeeded in preserving its medieval character. It is surrounded by the highly-prized residential areas of Beauvallon and Guerrevieille, while at its feet, on the seafront, the "lagoon city" of Port Grimaud draws thousands of visitors each year along its canals.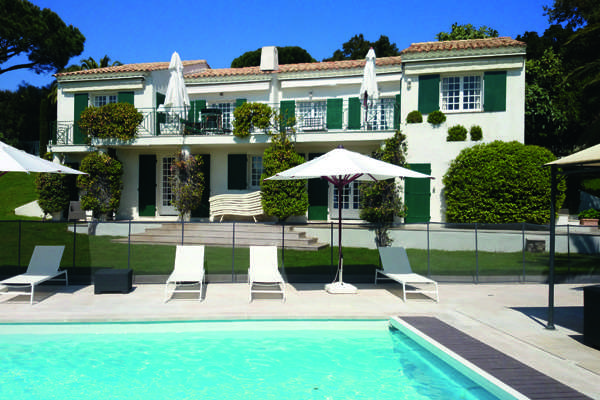 This villa of 220 m2 with 7 bedrooms is in a quiet cul-de-sac in the Beauvallon neighbourhood. It benefits from a heated pool and views of the sea. 1.850.000 €. Agence Alpha (04 94 96 32 59).
Specializing in the popular areas of Guerrevieille and Beauvallon, Jean-Philippe Manzon, manager of the Agence Alpha, describes an increasingly buoyant market. "The sales we handle mainly concern holiday or semi-main homes acquired by clients from both France and northern Europe. Prices are currently stable, with properties on offer from 1.5 to 2.5 million euros attracting the most interest." In search of lovely Provençal villas or more contemporary homes - often priced from 3.5 million euros -, buyers appreciate the unique setting offered by these enchanting areas, often enjoying beautiful views of the Gulf of Saint-Tropez. "In terms of architectural styles, we are lucky to be able to propose a wide array of properties at different prices," adds our expert. By way of example, he mentions among his recent sales a renovated house of 170 m2, which changed hands at 1.4 million euros.
Launched 50 years ago, Logi Service is the historic estate-agency for Port Grimaud, the "lagoon city" also known as "the Venice of Provence", bearing the 20th Century Heritage label since 2001. Designed in the 1960's by the visionary architect François Spoerry, this maritime village at the far end of the Gulf of Saint-Tropez plays host to some 2,500 homes and over 2,000 boat moorings. Offering the typical charm of Provence, Port Grimaud is comprised of little squares and narrow streets lined with small blocks of apartments, and houses with colourful facades and Roman roof-tiles, poetically called "Ostale", "Balandrine" and "Cassine". "Prices for 2-bedroomed houses start from around 800,000 €, while so-called "Fishermen's houses" ranging from 85 to 100 m2 fetch from 900,000 to 1.5 million euros, depending on their characteristics and especially the size of their boat mooring," explains Elisabeth Morice, emphasizing the fact that a mooring place suitable for new boats, both longer and wider than before, has become a decisive factor. Here, owners from France, Belgium, the Netherlands, Luxembourg, the UK and Switzerland share their love of sailing and appreciate the sense of security that reigns within this seaside village monitored 24/7, 365 days per year. Just as popular, apartments have seen a slight decline in their prices. A studio of 23 m2 without a mooring can now be envisaged from 150,000 €, while beachfront apartments with loggias offering unimpeded views of the Gulf are pegged at around 10,000 € per sq. metre. "The choice is wide, and the prices posted are still relatively stable, though some sales go through after some tough bargaining."
You will also like