Grimaud, at the entrance to Saint-Tropez
Comprised of a medieval village perched on a hill, a "lagoon city", and lovely green countryside, the multifaceted Grimaud nestles at the foot of the Massif des Maures, at the edge of the Gulf of Saint-Tropez.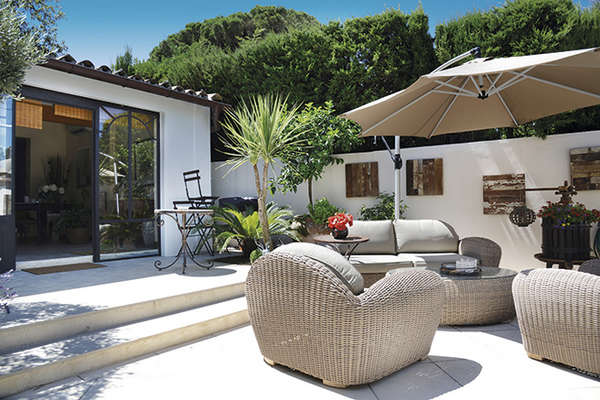 This charming 2-bedroomed house with a garden-terrace of 54 m2 is in the centre of Saint-Tropez. 950.000 €. Skillington - Janssens Immobilier (04 94 44 10 44).
Just 10 km from Saint-Tropez and 3 km from Cogolin, Grimaud occupies an area of over 11,000 acres between land and sea, playing host to about 4,300 year-round residents. Its well-preserved medieval village offers flowery cobbled streets appreciated by fans of old stone, in search of typical village houses. In the surrounding area, neighbourhoods with villas and more substantial properties comprise most of Grimaud's real-estate market.
"Like the 12 communes comprising the Gulf of Saint-Tropez, Grimaud is one of the satellites of this seaside resort of international renown. We benefit from a central location providing easy access to beaches, harbours and shops, while nestling in a protected setting in the guise of a picturesque and peaceful citadel," explains Hugo Skillington, who has run the Skillington Janssens agency since 1983. Specializing in prestige properties, the agency is currently confronted by a hesitant international clientele. "Due to today's political and economic situation, both buyers and sellers sit back and observe rather than take any action. We are still orchestrating sales of substantial properties, like one sumptuous residence we sold last summer to a French client for around 7.5 million euros, though we can't help but notice that in 2015 and 2016, sales volumes have declined in the segment for luxury properties." Sellers who bought properties at the height of the market in the years from 1998 to 2008 are often disappointed by prices that are now posted, and have the means to postpone their plans to sell. As for buyers who are not at all obliged to find accommodation, but solely motivated by a desire to offer their families a pleasant holiday home for summer get-togethers, they listen to their accountants and financial consultants, advising them to "wait and see". The result is a blockage in the market, even though many high-quality properties are up for sale at appealing prices, including a few "gems", as Hugo Skillington confirms.
The situation is apparently different for intermediary segments of the market. "We are seeing a slight rise in our sales volume," says Thomas Jager, of Jager Immobilier, a family-run agency opened in 2006, handling properties from 500,000 to 3 million euros. "Most of our buyers are aware that the market now offers some genuine opportunities. The majority are now up for sale at prices 30% lower than in 2008. Our most recent sales involve villas to renovate in very lovely settings offering views of the sea. Priced from 1 to 1.2 million euros, they meet the needs of French, Belgian and a few German buyers looking for holiday homes, and all aware that they are making a sound investment. A few years ago, it was unthinkable that a villa with sea view could be acquired at such prices !" This side of 1 million euros, the market consists more of homes for people working locally who, from 400,000 €, can set their sights on a detached house giving priority to practicality rather than charm or a desirable location. Buyers with more modest budgets opt for apartments, though there are very few offerings. Others decide to buy building plots. Grimaud in fact still offers building land of quality, with plots available from 250,000 to 500,000 €.
You will also like