Grimaud : a flourishing market for second homes
Today's rising demand for second homes in Grimaud is matched by abundant offerings, and stable prices.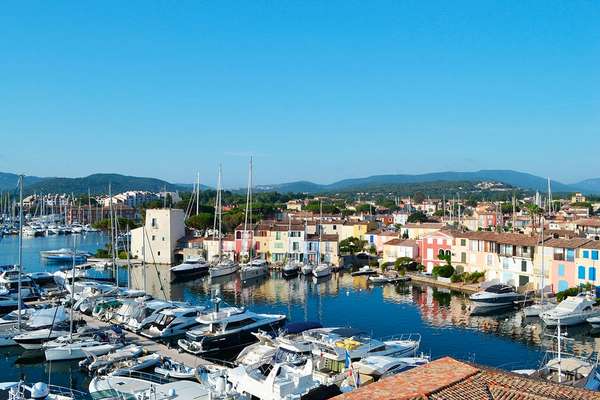 Grimaud is famous for its lagoon city, Port Grimaud, a real marine village known as the "Venice of Provence".
Resulting from the merger of the Alpha and Selectimmo agencies, Alpha Select Immo places 28 years of sales expertise at the disposal of its clientele, in an area encompassing communes around, and on the periphery of, the Gulf of Saint-Tropez. Jean-Philippe Manzon points to two types of budgets for acquisitions : from 800,000 to 1.5 M € for villas offering views of the sea, over and above 3 million euros for outstanding residences, bearing in mind that the market in Grimaud is almost exclusively comprised of detached or semi-detached villas. "Since the end of the lockdown, we have witnessed a phenomenon of decompression with a significant number of visits and transactions. Buyers dream of a sunny pied-à-terre near the sea where they can shelter should another crisis occur and which they can use in any case as their main residence when they retire or, if their profession allows it, as a semi-permanent home." All joined by a desire to find a long-term investment, now embodied more than ever before by real estate. Around the village of Grimaud, locations enjoying views of the sea are the most sought-after, together with Beauvallon for its privileged residential environment in immediate proximity to the international golf-course. Their difference lies within a meshing of various sectors based on inter-professional collaboration with meticulously selected local agents : "Strength lies in numbers" could well be their slogan !
The family-run Jager Immobilier agency managed by Philippe Jager focuses 100% on sales within a perimeter covering all the communes around the Gulf of Saint-Tropez. "Eighty per cent of the market in Grimaud consists of second residences, split into three categories : "country", "village" and "sea view" properties, at prices mainly ranging from 800,000 to 2.5 million euros. In the case of year-round homes, prices range from 400,000 to 800,000 €, bringing properties in the plain of Grimaud, between Port Grimaud and the old village. New developments are rare, mainly comprised of small apartments intended as investments and posting the lowest prices on the local market." Since deconfinement, buyers have proved to be especially active in their house-hunting and brisk in their decision-making. "Our clients come to us with a real desire to buy and, after only two series of visits, take the plunge. Furthermore, their selection criteria have become much more flexible, whether in terms of location, architecture or even closeness of amenities." The majority of these buyers - mainly French or from Switzerland, Belgium or Germany - who are setting their sights on second residences rarely require financing, whereas people employed in the region looking for year-round homes are faced by more difficulties in obtaining a mortgage in the current state of affairs. Even so, today's rise in demand is matched by an abundance of available properties and has therefore not led to rising prices.
You will also like