Gard : between town and country
With city-dwellers heading for the country, Le Gard appeals to buyers in search of properties of character, not far from the sea and main roads. As a bonus, these homes are not priced for an elite.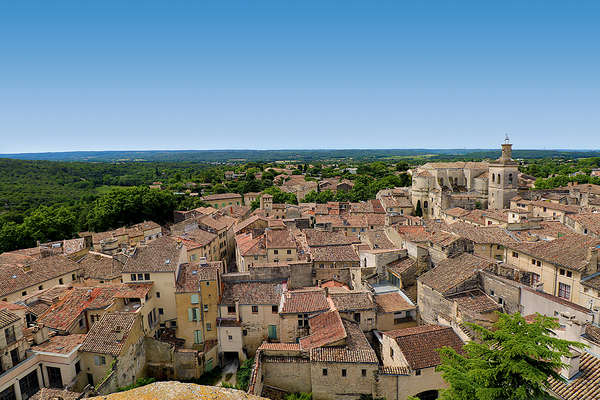 Between Nîmes, Alès and Avignon, the Duchy of Uzès is listed as a "Ville d'Arts et d'Histoire". Restored with the greatest care for authenticity, its Old Town offers exceptional charm.
Muriel Pécot runs the two Orpi Pont du Gard agencies in Uzès and Remoulins, where her teams focus on sales and property management. "We cover an area within a radius of 50 km around our agencies. Buyers are mainly looking for two types of properties : recent houses and residences of charm. In both cases, they must, of course, benefit from grounds, a garden or terrace to meet current demands." In Remoulins, Muriel Pécot says that prices range from 180,000 to 300,000 €. Clients here are looking for houses within easy reach of activity centres. In Uzès, prices range from 300,000 to 600,000 €, more for exceptional properties. "The market is characterized by rare availabilities and the fact that owners here hang on to their homes. Even so, in 2020, overall sales volume compensated for the period of interruption caused by the crisis, without any rise in prices." A significant percentage of buyers consists of clients from the provinces looking for second, or even semi-main, homes, with easy access by rail or motorway. Meeting this criterion and offering essential amenities, villages near Uzès and Remoulins are seeing a rising number of clients.
Managed by Lidia Darlow-Joaquim, the Stéphane Plaza Immobilier agencies based in Calvisson and Alès handle sales and property management. "Houses typical of Le Gard - "mas", stone buildings and village houses - are the subject of steady demand. Before the pandemic, buyers already often insisted on outdoor areas though, today, this requirement has become systematic. Our clients are leaving towns to live surrounded by nature. They do, how­ever, want to be near shops and amenities, and ideally benefit from rapid access to a large town like Nîmes or Montpellier." Conforming to this wish-list, the ten villages in the plain known as La Vaunage – between Nîmes and Sommières – are meeting with rising success. "In this region, stone houses offering outdoor areas can be found from 350,000 €. Depending on the quality of their appointments, they can attain 800,000 €. This being the case, for about a dozen home-seekers, the market can only come up with two available properties." The Covid crisis has accentuated this phenomenon to the point that sellers themselves wait to find a property before selling their own. "As for the market for new properties, we sold a lot of 8 apartments in just three weeks, on offer at 3,500 € per sq.m. The previous development, comprised of 12 units, sold out in three months at the same price." The squeeze on markets for both old and new properties attests to the appeal of this sunny region near the sea and large towns, sprinkled with pleasant villages reached by main roads.
You will also like