From Vaison to Sainte-Cécile : the charm of Provence
In the region near Mount Ventoux, the communes of Vaison-la-Romaine and Sainte-Cécile-les-Vignes are lively and attractive, both offering unusual settings. Addresses that are particularly appealing for buyers embarking on a new stage in their lives.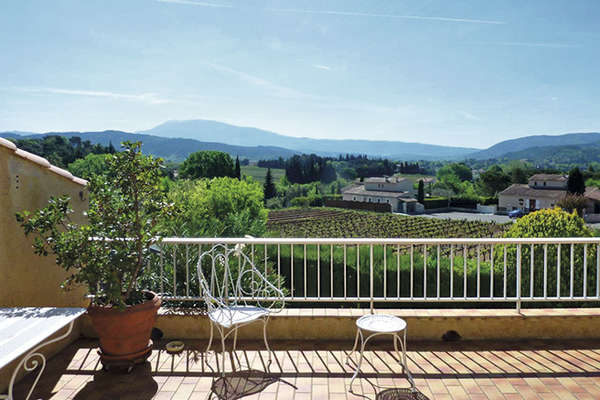 In an elevated position near the centre of Vaison, this bright 1-storey villa offers living space of 120 m2. Its annexes and mature garden of 515 m2 are reached by lift. 339.000 €. Boschi Immobilier (04 75 26 09 78).
In the northern part of the Vaucluse, the village of Sainte-Cécile-les-Vignes is lively year-round, offering pretty surroundings sheltered from any disturbance. According to Blandine Dalla Costa, manageress of the Dapia Immobilier agency at the heart of the village, the main thing that distinguishes Sainte-Cécile from other localities nearby is its accessibility : "Unlike other communes in this area, we are close to the motorways, in a quiet privileged setting in the midst of the vines. Clients opt for Sainte-Cécile for its lively atmosphere, neighbourhood shops, its market, primary and intermediate schools. All these advantages draw buyers from different horizons, from locals to foreigners : half of our clientele comes from outside the département". There is constant interest in the village, making it a pleasant place to live all year round. A few first-time buyers focus on the area, though most demand can be attributed to buyers aged 45 to 65, with the average budget pegged here at 350,000 €. "The price bracket that scores the highest number of sales is 250,000-450,000 €," explains Blandine Dalla Costa . "Most demand today is for villas all on one floor, with 3 or 4 bedrooms and 2 bathrooms, close to shops. Though there is also a market for apartments with terraces and, of course, the must-have "mas" in need of restoration, still in high demand, but very hard to find. We are currently offering, for example, apartments with terraces in an attractive residence with a pool, at the heart of the village. An ideal location for a holiday home, or an investment for seasonal rentals." Their prices are extremely appealing : from 50,000 € for a furnished studio with a terrace, to 125,000 € for a furnished 2-bedroom apartment, also with a terrace. The agency also has some lovely properties with pools for sale, priced between 350,000 and 500,000 €. "All our properties can be viewed on our website," says Blandine Dalla Costa.
Jean-Pierre Garcia is the manager of the Agence CTI, which mostly focuses on properties of charm and character in lovely locations. "The properties we handle usually offer striking views and quiet settings. They mainly consist of stone houses, to be taken "as they come". The area around Vaison-la-Romaine offers homes from 150,000 to 3.5 million euros, though Provençal villas near the town centre are the most widely sought-after, at prices ranging from 400,000 to 500,000 €." Like Sainte-Cécile, Vaison is lively year-round. It proposes lots of activities, and a well-developed choice of clubs and associations. Jean-Pierre Garcia explains that, in addition to Provençal villas, other properties are also popular : "We see constant demand for village houses with gardens, from 250,000 to 300,000 €. The Provençal "mas" is still, of course, much sought-after in the region, and depending on whether it has been restored or not, its price can range respectively from 1 to 1.5 million euros, or 250,000 to 500,000 €". For this type of property, most of the buyers are in their fifties, looking for a home to which they will retire and welcome their family and friends.
It is David Boschi's intention to help people carry out such life-changing projects. Manager of two Boschi Immobilier agencies, he is based in both Vaison-la-Romaine and Sainte-Cécile-les-Vignes. This "global" approach has enabled him to identify certain parameters : "The two addresses are complementary. One is higher up, offering broader panoramic views, the second lies amidst the vineyards, offering undeniable and even unique charm. Though clients are above all aiming to start a new life. They want to retire to the region for its sunshine and lifestyle. The choice of the town is pretty much of secondary importance". These retirees aim for houses all on one floor, or offering a ground-floor master suite. They also prefer to avoid renovation work. "Buyers often want recent villas, if possible with geothermal heating or a heat pump. They are very concerned about energy costs, whether they are looking for year-round or holiday homes." Some of the agency's clients are also in search of family residences built of stone, ideal backcloths for their holidays.
You will also like