From Saint-Gély-du-Fesc to Saint-Clément-de-Rivière
Villages north of Montpellier give a place of honour to pleasant, rural landscapes, appreciated by retirees but also members of the working population. They all agree on the quality lifestyle to be found here and the advantages of a location lying between a large urban area and wooded countryside. Focus on a lively sector...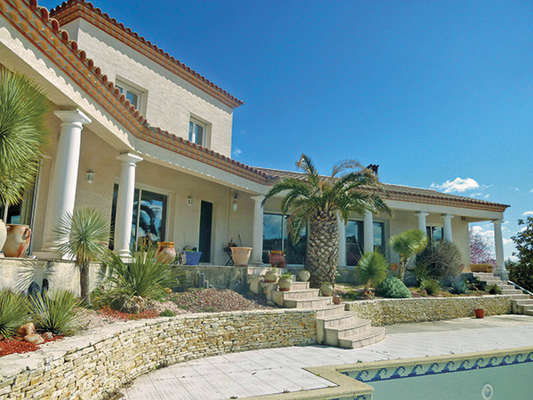 At the heart of Saint-Gély-du-Fesc, this house of 230 m2 opens out to a landscaped garden of over 1,200 m2 with a pool. 699.000 €. Groupe Rambier Immobilier (0825 883 882).
On the Route de Ganges, less than 10 km from Montpellier, Saint-Gély, home to 8,660 residents, lies in a valley surrounded by hills and crossed by Le Pezouillet. Over the years, prices here have risen due to demand from a growing number of buyers - as demonstrated by the success of the estates of "Beauregard" and "Les Vautes". 5,050 people live in Saint-Clément, a locality hosting the largest hyper-market within the agglomeration. Comprised of forests, villas, council housing and student accommodation, the southern part of the commune borders on the capital of L'Hérault, while the northern part with its intermediate and secondary schools is composed of woodland. Finally, the eastern part, not far from the River Lez, is covered in vines.
"One of the advantages offered by villages north of Montpellier is their closeness to the prefecture of L'Hérault, the highly active neighbourhood hosting hospitals and university faculties," explains Frédéric Gasser of Dupin Immobilier. "Whilst they provide all the shops and amenities necessary for everyday life, they benefit from a more favourable tax regime than that applied in the urban agglomeration." 90 % of sales involve permanent homes, houses of 100 m2 with gardens of 400-500 m2, priced between 300,000 and 350,000 €, or villas of 150 m2 in grounds of 1,000 m2 ranging from 400,000 to 500,000 €, comprising a much larger share of the files. Despite the longer time it now takes to sell, prices have remained high. Correctly estimated, a property will find a taker without too much difficulty. As for apartments, their share of sales is still extremely modest. The price for old apartments is around 2,500 € per sq. metre versus 2,800 € on average for recent residences.
"The secondary schools - public in Saint-Clément, private in Montferrier-sur-Lez - meet the requirements of an ever-growing clientele of families looking for space, a luxury given the rate of urbanization observed in Montpellier over the past decade," says Maryse Rambier of the Groupe Rambier Immobilier. New developments are doing well here. In the second ring around Montpellier, two examples in Saint-Mathieu-de-Tréviers have their fans, ready to pay respectively 189,000 € for a 2-bedroom apartment of 60 m2 and 230,000 € for a 3-bedroom apartment prolonged by a good-sized terrace facing towards Le Pic Saint-Loup, parking places included in both of the residences concerned. The interested parties are shared out equally between buyers of main homes and investors, convinced of a sound asset over the medium term. Maryse Rambier also mentions an innovative development in Le Pic Saint-Loup, 15 minutes from Montpellier : an estate of small 1-storey villas of 100 m2 with contemporary architecture, intimate gardens and parking spots set back from the houses, priced under 300,000 € each. Inclined to pay cash after selling their homes in large cities, French retirees appreciate these villages at the gateway to the capital of L'Hérault. They are won over by their generous living space and swimming pools ; some are prepared to pay up to 750,000 €. They are also appreciative of the easy access from these communes to the LIEN ("Liaison Intercommunale d'Evitement Nord de Montpellier") - a main road designed to reach the A9 and the road to the beaches quickly.
One of the most recent sales handled by Jhenny Clin of Caractère Sud Square Habitat was a house in Grabels - living space of 140 m2 in good condition with a garden of 480 m2 and a pool - presented at 445,000 € and sold for 395,000 €. The new owners work at Euromédecine. In the current climate, requests for a 10 % reduction are a recurring factor. Most enquiries for homes are beneath the 400,000 € barrier. Long gone the acquisitions of properties for personal enjoyment, today's clients are buying out of necessity, due to a job transfer or retirement, for instance. Many buyers now think in terms of an all-inclusive budget and are wary about land tax and a property's energy performance. The contemporary style is very popular. Some buyers are turning their attention to new homes to the detriment of traditional offerings, others prefer to build. But while building land is a sought-after commodity, the choice available is shrinking fast. A plot of 1,000 m2 on an estate in Saint-Gély costs 260,000 to 280,000 €, giving a total budget of 500,000 €. Subjected to professional obligations, doctors and other hospital staff want to live near their workplaces for practical reasons. The villages north of Montpellier allow them to reconcile this criterion with being close to nature. French retirees are set on homes all on one floor, while a new breed of clients are thinking about renting out one part of their homes, as long as it can be made totally independent, in order to cover their running costs.
You will also like