From Béziers to Lézignan-Corbières via Narbonne
A vast wine-producing plain less than 15 minutes from the beaches, the picturesque area between Béziers and Narbonne boasts some magnificent properties offering lots of character. Just like that of Lézignan-Corbières, further west, where prices are particularly afffordable.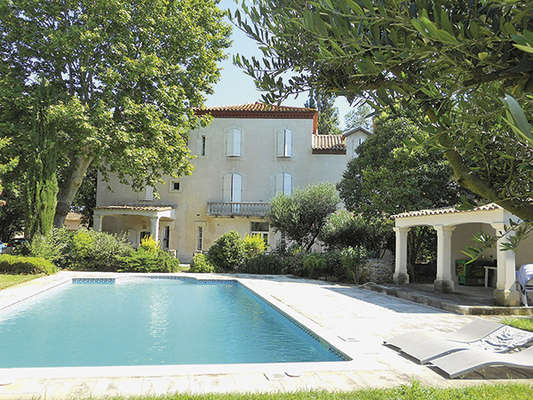 This 18th-C. property of 400 m2 in Narbonne stands in a 2.5-acre park with a swimming pool. 1,1 M €. Via Sud Immobilier (04 67 49 92 49).
The second largest commune in L'Hérault, fourth in Le Languedoc-Roussillon, with over 70,000 inhabitants, Béziers is in fact the oldest town in France : according to archeologists, it was founded by the Greeks in the 6th century B.C. A unique heritage, enriched over the centuries by the cultivation of vines, and more recently by rugby ! A pleasant, authentic address, enjoying a Mediterranean climate.
Its real-estate market offers some fine opportunities : "We are currently proposing a 2-bedroomed apartment of 80 m2 in a 1900's building at 60,000 €," say Hugo and Jean-Louis Dreuille of Via Sud Immobilier, an agency in Béziers opened in 1991, specializing in properties of quality and character from Cap d'Agde/Valras-Plage to La Salvetat-sur-Agout, and from Narbonne to Montpellier. "For a lovely town house of 150 m2, restored throughout, one can expect to pay around 200,000 €." Detached houses are just as enticing, as demonstrated by a 1940's villa of 135 m2 in good condition with a garden of 320 m2 in the highly-prized neighbourhood of Les Arènes, up for sale at 222,000 €.
Then, as far as Narbonne (25 km south of Béziers, with over 50,000 residents), another town in Le Languedoc steeped in history and also reflecting the deep influence of vineyards and the oval ball, our estate-agents propose an appealing portfolio of charming homes : a "vigneronne" house of 240 m2 with a cellar of 300 m2 and a small garden, at the heart of a village, priced at 437,000 € ; a prop­erty comprised of six houses and numerous outbuildings on almost 3.75 acres of land, at 950,000 € ; and a bourgeois residence of 400 m2 at the entrance to Narbonne, in a 2.5-acre park with old wine cellars in excellent cond­ition, plus a pool, on offer at 1.1 million euros. "We have just sold a small mid 19th-century château near Béziers for 600,000 €. These exceptional properties, highly sought-after by the English and Parisians, bear witness to the region's glorious wine-producing past."
20 km west of Narbonne, one comes across Lézignan-Corbières, a lively little town with 11,000 inhabitants, ben­efiting from a protected environment dotted with villages typical of the south of France. Reached solely from the A61 from Carcassonne to Narbonne, the commune is experiencing a boom : construction of a second intermediate school, a secondary school, market-hall, and the arrival of new companies...
Promising developments for an area posting very affordable prices. "Here you can find houses to renovate from 35,000 to 40,000 €, and small villas from 145,000 to 165,000 €," say Bruno Dlachasse and Olivier Alteresco, associate directors of Lezimmo, an agency opened three years ago offering high-quality services (client support, consultancy, selection of professionals for renovation work and various other enhancements...) in all of Le Minervois and Les Corbières. "A superb villa of 90-100 m2 with a garden of 450-600 m2 and a pool costs from 200,000 to 230,000 €. As for more up-market properties, ie. of over 130 m2 with gardens of 700 to 1,000 m2 and swimming pools, they are available from 250,000 to 300,000 €." Furthermore, these particularly low prices are relatively stable. "They draw young retirees who fall for the charm of the local scenery."
You will also like