Fréjus and Saint-Raphaël, focus on two privileged addresses...
On the border between the Var and Alpes-Maritimes, the neighbouring communes of Fréjus and Saint Raphaël combine the assets offered by the Côte d'Azur with a rich architectural heritage.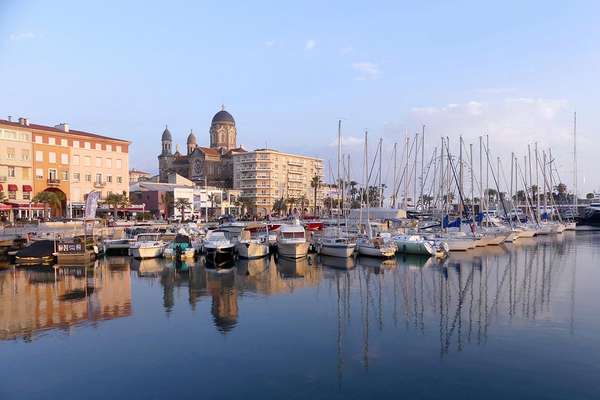 Recently refurbished and with tighter security, the Old Port of Saint-Raphaël offers very pleasant walks alongside poetic works of art.
Founded in 1906, and based in Saint-Raphaël and Fréjus, WF King Immobilier mainly concentrates on sales of mid- to high-end villas, particuarly in the privileged neighbourhood of La Tour de Mare, highly-prized by clients. "A real village within easy reach of the town, offering a good number of shops and in immediate proximity to the motorwway, this residential area dates back to the 1960's," says Bernard Santos, manager of the WF King Tour de Mare agency, which has over a hundred properties in its portfolio. "Offerings here are almost exclusively comprised of affordable villas ranging from 500,000 to 1.5 million euros, though you can find houses of 90-100 m2 with gardens of 300-400 m2 from 300,000 €. 90% of our clients are French - foreigners tend more to be sellers in this area. 60% of the buyers are retirees, 40% are actively employed in the region, mostly looking for main homes, with holiday residences accounting for only 20% of sales. Whether for main or holiday homes, our buyers arrive with budgets of 450,000 € on average." In the Tour de Mare area, prices have remained stable over the past year, while sales volume has seen quiet phases with spikes in activity, including strong demand since the spring. WF King Tour de Mare recently handled the sale of a house typical of properties available on this market : a house of 150 m2 in grounds of 1,700 m2, without a pool, found a taker for 545,000 €, requiring a significant further budget for renovation work. Another exemple of a recent transaction : a house of 139 m2, not in need of renovation, with a garden of 600 m2 and a pool, priced at 549,000 €. In a quiet location set back from main roads, but close to schools and proximity shops, La Tour de Mare is very popular. Home-owners here appreciate the quality living conditions provided by this privileged area on the Var coast.
The directors of the Canat & Warton agencies in Saint-Raphaël - the leading network for prestige properties in the Var -, Karim Cordelier, Jean-Philipe Bossy and their teams are this year celebrating Canat & Warton's 20th anniversary. "With the recent launch of our Cabinet du Littoral, we now have three agencies in Saint-Raphaël. We concentrate on sales of "desirable" houses and apartments. The exceptional nature of a property derives more from its stylishness and remarkable or unique appointments than from its price." The agency's clients looking for apartments usually have budgets ranging 500,000 to 1 million euros, whereas houses post prices from 800,000 to 1.5 million euros. Foreign clients in search of holiday homes account for 10% of the buyers. In the case of houses, the Valescure area, also known as the "golf-course area", is one of the most sought-after : it is here, in this privileged portion of the coastal area, that one finds the loveliest villas. As for apartments, demand remains strong for those with views of the sea, mainly to be found in the neighbourhoods of Santa Lucia, Notre-Dame, even Les Plaines. "Sales volume has declined slightly, though demand for properties offering exclusive amenities remains very steady : and the budgets involved are in keeping with this insistance on high quality."
You will also like