Font-Romeu and Les Angles, ski resorts in the Pyrénées Orientales
Font-Romeu uses sunshine as its main attraction, while Les Angles is stepping up its efforts to entertain its clients. Respectively 89 and 90 km from Perpignan, these two resorts in the Eastern Pyrenees unfurl their charm, wild scenery and (still affordable) property market...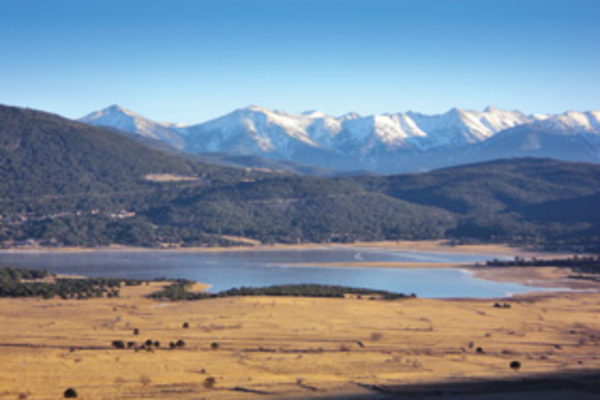 In a chalet built of wood and stone, this south-facing apartment in Les Angles offers living space of 130 m2 opening out to a terrace of 32 m2. 440.000 €. Capcir Immobilier (04 68 30 92 60).
For the Olympic Games held in Mexico in 1968, Font-Romeu built an Olympic site dedicated to preparing French athletes. This sophisticated facility is now joined by a multi-disciplinary, climatic and sports secondary school. So it isn't surprising that this spot in the mountains won the 2009 title of the "most sports-oriented" town in France. Thanks to its combination of high altitude and low humidity, it is blessed with exceptional sunshine and very pure air. Qualities enabling the commune to become a leading research centre for solar energy. The railway station is 3 km from the centre. The 500 snow-cannons cover the needs of 80 % of the skiing domain. 23 ski-lifts take enthusiasts to 40 ski-runs. Versus 31, ie. 50 km dedicated to downhill skiing, over in Les Angles. In 1961, this village was making its living from livestock and agriculture. To compensate for the inevitable exodus from the countryside, the local authorities decided to transform the steep terrain into a real resort. Over the years, the amenities gradually developed : 36 km of slopes now welcome fans of cross-country skiing and trekking on snow-shoes. An animal park rubs shoulders with the Nordic fun area, the adventure circuit, bowling alley, diving-under-ice centre and departure-points for fans of paragliding.
"Font-Romeu definitely benefits from a micro climate, a real advantage from the point of view of holiday home-owners from Paris and northern France," says Stéphanie Will of Immo des Cimes. To reach their destination, Parisians take the night train, Austerlitz-Latour-de-Carol. They are mostly interested in studios costing around 50,000 € or 2-bedroom apartments, priced at about 170,000 €. The crunch is still having an affect on the behaviour potential purchasers, who are demanding in their requirements, excessive in their bargaining and sometimes very fickle. Nevertheless, prices seem to be holding steady and a fairly priced property sells without difficulty. Recently, a Parisian client paid 40,000 € for a basic studio near the slopes, buyers from Perpignan spent 210,000 € on a 2-bedroom apartment in a new high-class residence, and clients from Le Languedoc-Roussillon invested 150,000 € in a 3-bedroom apartment in the historic centre. Locals are more drawn by building plots in particular - from 90,000 to 130,000 € - and houses rather than apartments in general. In 2010, as in 2009, they accounted for less than 10 % of total transactions.
"Tourist activities allow Les Angles to function year round, thanks especially to the construction of residential complexes. The resort is still chalking up significant progression, with a more recent tendancy towards higher price-levels," notes Bernard Christofeul of Capcir Immobilier. In 2010, for example, a dozen chalets, purchased on plans the previous year by people working in Montpellier, rose from the ground. Facing south towards the village and the lake, they offer living space of 140 m2 on average (4/5 bedrooms) with gardens of 500 m2, linked to the centre by shuttle buses. The majority are priced around 400,000 €, though some attain 800,000 €. Naturally, the lowest end of the scale - ie. properties under 150,000 € - are in high demand. Prices are comparable to those observed in Font-Romeu. Except that in the case of the latter, the scenery is less built-up. One places its bets on sunshine, the other on natural snow coverage, despite the eventual use of 363 snow cannons. Finally, water-sports activities organized on the lake of Matemale in July and August add a touch of colour to the summer, almost as busy as the winter season, proudly recording an occupancy rate of 90 %.
You will also like