Eternal Alpilles
An idyllic hunting-ground for second residences for Parisians in search of the real Provence, the Alpilles were first listed in France's inventory of remarkable sites in 1965.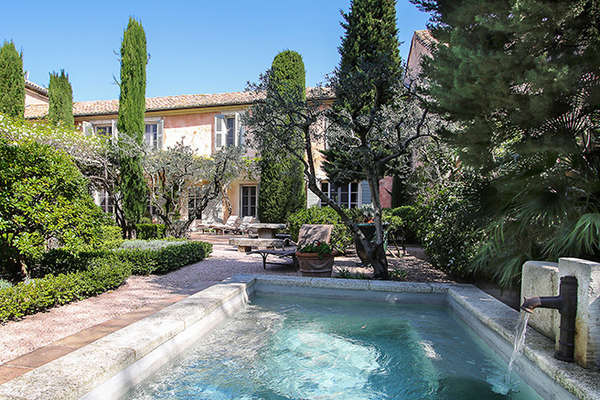 Ideally located 200 metres from the central square in Maussane, this renovated "mas" of 250 m2 with a garden of 700 m2 has just found a new owner. Autour de 1,4 M €. Agence des Alpilles (04 90 54 54 55).
Just 2 hrs 40 minutes to Paris from Avignon's TGV station, the cluster of villages comprising the Alpilles is spread out over an area 10 km long and 15 km wide. The famous "Golden Triangle" comprised of Saint-Rémy, Maussane and Eygalières offers the most highly-prized addresses for property investments in the guise of authentic stone houses at the heart of a village or good-sized "mas" in the midst of farmland and vines.
Mostly French, buyers currently benefit from a sizable number of offerings, though prime locations within walking distance of amenities are always rare commodities.
Opened three years ago by Aurélia Freychet and Sandy Marquis, two real-estate professionals covering the Alpilles area for the past 20 years, the Agence de Saint-Rémy selects properties of quality. "Our market is characterized by steady demand, especially for flagship addresses in the Alpilles. We are seeing renewed interest in Eygalières. The most frequent enquiries involve town houses with gardens priced around 800,000 €, and typical Provençal "mas" in the country," explains Aurélia Freychet, who has just orchestrated the sale of such a "mas" of 400 m2 offering a sweeping view on almost five acres of land. In need of some refurbishment, this typical stone residence changed hands at around 1.4 million euros.
Owing its liveliness to its delightful Place Laugier de Monblan, Maussane has become more sought-after over the past ten years. "Surrounded by plane trees, restaurants and quality shops open year-round, this central square is an ideal spot for meeting friends and making new encounters. It also offers a children's playground," says Eric Didner, manager of the Agence des Alpilles based in Maussane for two decades. With a portfolio of properties ranging from 300,000 to 10 million euros, this agency pursues its activities at a smooth cruising speed. "Mainly French, our clients are solely looking for holiday homes. In this period with a newly elected president, we have noted a clear wait-and-see attitude on their part." Transactions are not, however, at a complete standstill, and certain properties offering lots of assets are the subject of love at first sight, selling at their asking price. By way of example, Eric Didner mentions the recent sale of a superbly renovated village "mas", ideally located 200 metres from the Place Laugier de Monblan. Offering living space of 250 m2 and an attractively laid-out garden of 700 m2 with a lap pool, this house is currently being acquired by a new owner for about 1.4 million euros.
You will also like