Drôme Provençale, whoever comes stays !
Well connected by the TGV station, road and motorway networks, 3 hours from Geneva, 1 hr 30 from Lyon and 2 hrs 30 from Paris, the neighbour to Provence is increasingly drawing both tourists wanting to get back to nature, and buyers who have fallen for its many assets and charms.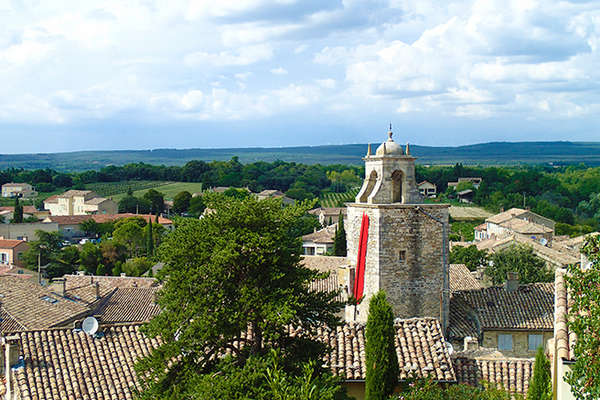 A charming, typically Provençal village, Grignan stands in the midst of lavender fields, oaks and olive-trees. Numerous shops and restaurants provide a delightful lifestyle, enjoyed by both residents and tourists in all four seasons.
Province Immobilier has four agencies located in Saint-Paul Trois Châteaux, Suze la Rousse, Sainte-Cécile les Vignes and Grignan. Specializing in sales and rentals of large properties, village houses and villas, it handles both permanent and holiday homes. "Many clients are looking for second residences with potential to become their main homes when they retire," says Jean-Fabrice Bonnardel, director of this independent agency. Whether from Paris, Lyon, Belgium, the Netherlands..., many are they who fall for the charm of this natural region benefiting from the Provençal climate and posting prices more affordable than those in the Luberon or the Alpilles. "The two most frequent budgets range from 200,000 to 450,000 € for a villa or pleasant village house, and from 600,000 to 1 million euros for a large property in extensive grounds with annexes and swimming pools, in the midst of a high-quality environment." The most highly-prized address ? "Definitely Grignan and the area within a 20-minute drive." Proudly set on the plain, sheltering behind its high walls, the village of Grignan is the most highly renowned address in the region. "Today, even though demand outstrips supply, prices are still stable," says Jean-Fabrice Bonnardel. "The market is healthy and sales go through within an average of three months. We are clearly witnessing a promising period for both buyers and sellers."
"The Drôme Provençale is lively year-round, which is one of its many strong points," says Christine Miranda, heading up the agency bearing her name and based for almost three decades in Saint-Paul Trois Châteaux. The agency offers a team of seven, including one member of Belgian nationality. Specializing in seasonal rentals and sales of properties of charm, Provençal "mas", villas, "bastides", village houses and vineyard estates, this agency covers the Drôme Provençale from Montélimar south to Grignan, Saint Paul Trois Châteaux, via the upper Vaucluse, L'Enclave des Papes and Le Comtat Vénaissin. "Thirty per cent of the sales we handle involve permanent homes for French retirees and people employed locally, often transferred to the region, the remaining 70 % concern holiday homes for a French, Swiss and Belgian clientele," explains Christine Miranda, whose property portfolio also contains charming "mazets" at around 135,000 € and superb properties of character which can attain 2.5 million euros. "The most frequent budgets range, however, from 400,000 to 700,000 € for family villas with pretty gardens, ideally located less than 20 km from a motorway access and near shops and amenities. Typical villages such as Saint Paul Trois Châteaux, Saint Restitut, Clansayes, Chantemerle les Grignan and Grignan are the most sought-after among our clients fond of atmospheres which have retained their soul." What about price trends ? "Prices are now relatively steady. Which means a healthier market and rapid sales, as long as a property has been fairly estimated." By way of example of recent transactions typical of the market, Christine Miranda mentions a neo-Provençal villa of 200 m2 set in grounds of 3,000 m2 at the entrance to a village benefiting from a full range of shops and amenities. Offfering a lovely pool, this house built about 15 years ago just found a taker at 445,000 €.
You will also like