Drôme Provençale : charm and hospitality
Comprising the most southern part of the Auvergne Rhône-Alpes region, the Drôme Provençale is dotted with villages nestling at the foot of the mountains or perched on the hills, between stretches of lavender and vineyards.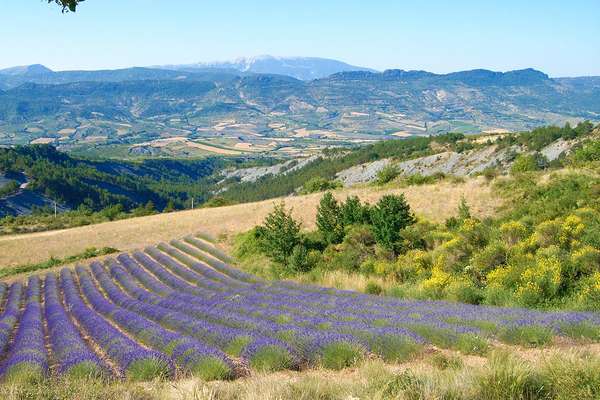 Popular among nature-lovers and fans of gastronomy, the Drôme Provençale is a well-preserved region offering a very pleasant lifestyle.
"Very attractive, the region offers a wide diversity of properties, from small houses on estates that appeal to young first-time buyers, priced from 180,000 €, to medium-sized apartments with beautiful terraces in the centre of Montélimar or nearby - from 160,000 to over 300,000 € -, and residences of character which can exceed 600,000 €," says Christine Navarro-Gougne, Manageress of Provence Immobilier, one of the oldest agencies in Montélimar, specialising in the sale of old and new properties within a radius of 25 km around the town. She describes high demand for single-storey houses with 3 or 4 bedrooms, requiring little or no renovation, available from 200,000 to 300,000 €. "The most popular areas are the neighbourhoods and numerous villages lying south and east of Montélimar. Buyers are now mostly looking for peaceful, natural settings." Over the past two years, the market has been active and liquid, thanks in particular to an even balance between supply and demand, backed by advantageous interest rates : with 2018 already particularly active, the number of transactions should chalk up a new record in 2019. The return of rental investors is also worth noting. "Buyers are better informed than ever before, which requires sellers to offer their properties at the right price in order to maintain the smooth flow of transactions that characterizes our market , and preserve this extraordinary impetus benefiting both buyers and sellers." Provence Immobilier is also currently marketing a new development at the very heart of Montélimar, "Le Carré Molière". This prestigious residence offers contemporary architecture with an inner patio and high-spec appointments, in tune with expectations expressed by buyers, now turning their attention to new accommodation.
Based for over 30 years in Saint-Paul-Trois-Châteaux, the Christine Miranda family-run agency, founded by Christine and Joseph Miranda selects properties of charm, noble Provençal "mas", substantial villas, "bastides", village houses and vineyard estates. Covering the Drôme Provençale, from Montélimar South to Grignan, Saint-Paul-Trois-Châteaux and its nearby villages, via the Upper Vaucluse, Enclave des Papes and Comtat Vénaissin, the agency is also active in the southern Ardèche and the northern part of Le Gard. "Over the past few years, prices have remained stable, though lead times have become longer due to the administrative complexity that accompanies each transaction," says Christine Miranda. "Today, it takes on average 3 to 5 months to complete a sale." The agency has participated for the second time in the "Capital" programme on M6, on the subject of holiday residences. "We contributed our experience in the sale of properties that have been used as rural "gîtes", which prove hard to sell given their large size and unusual profile. We have acquired recognized expertise in the field, which consists of transforming these large buildings into co-owned properties. Their buyers can thus benefit, at affordable prices, from a pied-à-terre in Provence in a property of character, with a generous surface area and quality appointments, surrounded by vast grounds." In 2020, the agency will open another office in the Upper Vaucluse, in Sainte-Cécile-les-Vignes at the foot of Mount Ventoux, where the Christine Miranda teams will focus on sales and
seasonal rentals.
You will also like