Discovering Le Pays d'Aix
Property prices in Aix-en-Provence remain very high. Many buyers are thus taking an interest in the surrounding areas. Here they find more affordable homes and more generous surface areas, in the midst of peaceful, natural settings.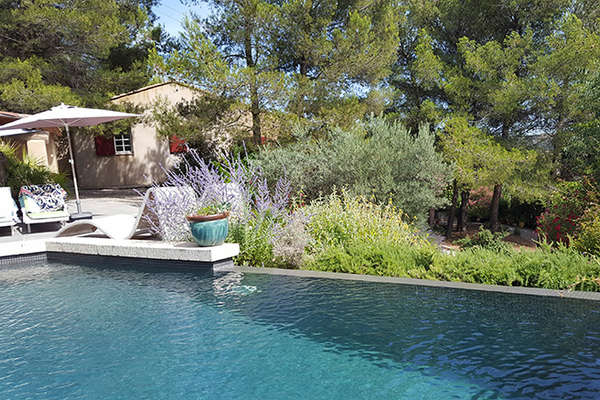 In a residential area near the old village of Meyreuil, this villa of character with 5 bedrooms and a reception room of 64 m2 is enthroned in enclosed and wooded grounds of 4,000 m2 with an infinity pool and pool-house. 780.000 €. At Home (04 42 59 51 65)
A large village 21 km east of Aix-en-Provence, Rousset stretches as far as the foot of the Sainte-Victoire mountain. Surrounded by olive-groves and fields of vines, the commune can be split into two distinct parts : the village and the industrial zone, with the outskirts of the village playing host to pleasant estates. Opened in Rousset two-and-a-half years ago, KB Immobilier has a very human approach to the role of estate-agent. "We assist all our clients from A to Z in their projects. We examine the best solutions very seriously, depending on needs and lifestyles, and offer little bonuses such as placing a van at their disposal, a home-staging service, financial advice..." explains Katia Becasse, who heads this team with four members, including a former jurist and a former professional from the banking sector. Covering the east side of Aix, KB Immobilier currently has a portfolio of about 50 properties ranging from studios costing 80,000 € to good-sized villas at around 900,000 €, and including many classic houses likely to appeal to local families. "The most frequent demand is for houses priced around 300,000 €," says Katia Becasse. This budget will bring a pleasant 3-bedroomed home on an estate. Mainly looking for year-round homes, the agency's clientele is comprised of retirees, and the actively employed, especially in the industrial zone. They are all faced by relatively thin supply due to steady demand. Even so, prices have remained stable.
With satellite branches in Bouc Bel Air, Gardanne, Meyreuil, Trets, Gréasque, Saint-Maximin and Aix, the At Home Immobilier agency created in 2012 in Châteauneuf-le-Rouge covers all of the Pays d'Aix. "80 % of our clients are from Paris, Lyon, Strasbourg and northern Europe. It is a clientele comprised of employees transferred to the region, future retirees, French and foreign investors, looking for a pleasant place to live," says Florence Lezé, manageress of this agency which has made considerable investments in new technologies to offer its clients high performance and turnkey services. "The market around Aix is rather complex because it is made up of a multitude of micro-markets. Today, the periphery around Aix and areas mainly south and east of the town are in high demand due to their attractive prices. Families can find large villas here with gardens." By way of example, she mentions a villa of 210 m² in grounds of 4,000 m² with a pool in Meyreuil, on offer at 780,000 €. In Fuveau and Châteauneuf-le-Rouge, villas are currently pegged from 3,000 to 3,500 € per sq. metre, like a single-storey home of 130 m² with a garden of 900 m², offering a view of the Sainte Victoire. On the prized estate of La Gavotte in Châteauneuf-le-Rouge, it is up for sale at 425,000 €. "To meet our clients' needs as best we can, we have just launched the marketing of a development in Gréasque called "Loft Sainte-Victoire" signed by Espace et Lumière. It is meeting with great success, as the concept is extremely innovative. We propose homes from 115,000 €, all very different, ranging from penthouses to loft-style apartments, and including a Japanese town house and a solarium house. Depending on each buyer's lifestyle, the architect and decorator design tailormade layout. Everything can be personalized."
You will also like