Discovering Le Comtat Venaissin
Between the rivers Rhône and Durance, in the département of the Vaucluse, Le Comtat Venaissin is made up of a number of villages, each one more charming than the last. A region in which buyers of holiday homes cannot help but find that special little gem...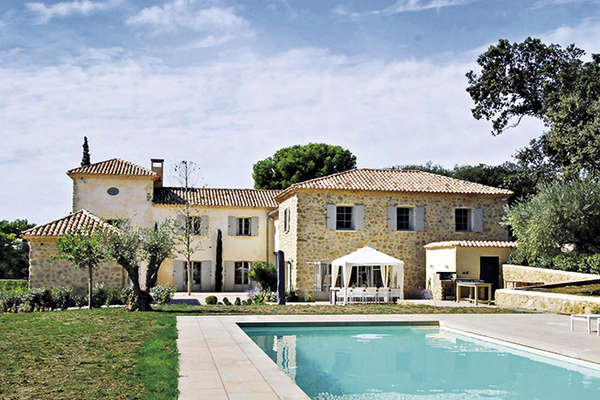 This elegant property with 7 fully equipped suites combines comfort and authenticity. Located in Beaumes de Venise, it stands at the foot of the Dentelles de Montmirail, in the midst of the renowned vineyards of Gigondas, Vacqueyras and Beaumes de Venise. Recently sold. 1,7 M €. Emile Garcin (04 90 72 32 93).
At the foot of Mount Ventoux, a famous landmark nicknamed the "Giant of Provence" which rises to an altitude of 1,912 metres and whose ascent makes thousands of cyclists struggle each year, nature lays claim to its most fundamental rights. Undulating scenery shares the land with plains and vineyards. The A7 motorway, Avignon's airport and TGV station provide access to the surrounding villages offering a very pleasant lifestyle. A region with a strong identity, whose property market is undergoing considerable expansion.
It was in Saint-Didier, 40 years ago, that Christiane Auquier decided to open her own agency called Côté Sud Provence. Within a radius of 10 to 15 kilomètres, she handles sales of properties in Le Beaucet, Le Thor, Venasque, Pernes-les-Fontaines, Caromb and Mazan. The core of the market consists of good-sized houses, contemporary or designed by architects, and authentic"mas", at prices ranging from 300,000 to 600,000 €. Most of these properties naturally have pools, as clients, mainly looking for holiday homes, look forward to taking a cool dip in the hot summer season. Among the agency's most recent sales, Christiane Auquier mentions a "mas" of 350 m2 in Saint-Didier, acquired by foreign buyers, and a charming village house of 150 m2 in Le Beaucet, which caught the eye of a couple of musicians from Avignon wanting to live there year-round. "Le Comtat Venaissin is a lively market, and the year just come to an end was even more interesting, as interest rates were particularly low. Even if they begin to rise, prospects for future activity are very positive, as properties are available and demand is always there."
Gilles Martin of Demeures du Grand Sud, an agency based in Châteauneuf-du-Pape offering over 25 years of experience, focuses on the area running along the Rhône as far as Avignon. His speciality is "real estate of quality" in Le Comtat Venaissin. In this sumptuous setting with the Dentelles de Montmirail and Mount Ventoux serving as a backcloth, "mas", "bastides" and châteaux (renovated or to be renovated) are the types of properties sought by his clientele. A French clientele, from Paris or the region around Lyon, but also foreign, from the UK, Switzerland, Belgium and Germany, thanks to the international network the agency has succeeded in building over the years. "Prices of old farmhouses transformed into "mas" range from 500,000 to 3 million euros depending on their surface area, environment and accessibility, while a master residence will cost around 2 million euros, and a château, with no work required, can be found for about 3 million euros." Buyers here have different motivations : there are those looking for a base in which to occasionally entertain their families, those preparing for retirement with a view to moving in permanently when the time comes, and those who want to leave Paris but pursue their activities from a distance. They all appreciate the quality living conditions offered by Le Comtat Venaissin with its typical villages, fertile land and cultural heritage. As demonstrated by a couple from Monaco, who fell for a "bastide" of 450 m2 near Mazan, enjoying an amazing 360° view, which they acquired for 1,590,000 €, and clients from north of Lyon, the happy new owners of a "mas" of 400 m2 on almost 11.15 acres of land with a pool and pool-house, for which they paid 1,390,000 €.
According to Grégory Caruana, architectural, but above all, environmental qualities are essential criteria for concluding a sale. "Here at Emile Garcin, we select the properties we propose to our national and international clientele with the utmost care. Our clients sometimes come from far away, and there is no way we can make them waste their time." In Beaumes-de-Venise, in the midst of the vines, an English couple thus fell in love with a property at first sight and decided in just a few minutes to treat themselves to this farmhouse superbly renovated by its previous owners. "People who come here have a Marcel Pagnol postcard in their minds, and they are not disappointed : the landscapes are dotted with very lovely villages, church towers, hills, olive-trees, vineyards... The region benefits from a truly privileged environment with no noise or eyesores, while still being close to main roads." Crillon-le-Brave, Venasque, Le Baroux and Beaumes de Venise are authentic Provençal villages in an environment lively all year long, with renowned restaurants, outdoor markets... Stone "mas" on the hillsides or very large properties in the guise of "domaines" or "bastides" priced from 1 to 2 million euros
meet with great success.
You will also like