Discovering beautiful residences in Le Morbihan
A fascinating blend of land and sea, Le Morbihan boasts many residences with lots of character which appeal to a well-off clientele in search of authenticity. Illustrations in the areas around Belz, Vannes and Theix.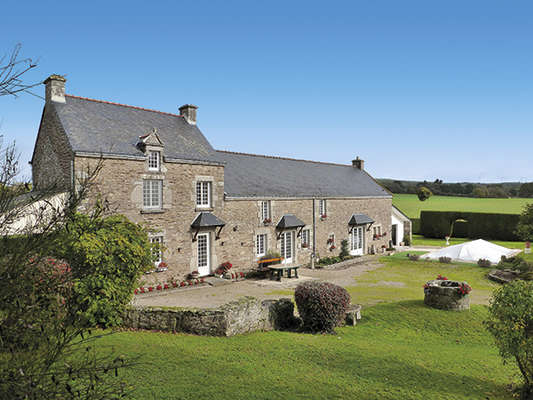 This "longère" farmhouse in the countryside near Theix offers living space of over 300 m2 in 5,200 m2 of grounds with a heated pool. 630.000 €. L'Agence de la Mairie Macé Immobilier (02 97 43 20 20).
Based in Belz since 2006, Colette Sinic and Jean-Pierre Josse are co-managers of Project Immo, an independent proximity agency specializing in the sale of building land and covering a radius of up to 20 km around the town, and occasionally beyond Vannes for outstanding properties. "Properties which are in steady demand," comment our professionals, who currently propose several examples on both sides of the Ria d'Etel. "Our portfolio contains, for instance, a single-storey timber-frame house designed by an architect, situated in Ploemel and offering living space of almost 160 m2 (6 main rooms/3 bedrooms) in 3,700 m2 of grounds with a heated pool. Warm and unusual, it is up for sale at 545,900 €." Another very attractive property : in Plouhinec, right at the water's edge, a villa of over 200 m2 (10 main rooms/6 bedrooms) in grounds of 1,300 m2. "Its exceptional location and charm justify its high price of 954,000 €." These properties sell from 500,000 to about 1 million euros, occasionally more : "We have already handled a transaction worth over 1 million euros in Plouhinec - a house at the water's edge with total living space of 270 m2 in 3.2 acres of grounds - which was then the highest price ever posted on the commune". Negotiations are usually relatively long, undertaken by a French and mainly Parisian clientele. "We are especially contacted by young retirees with substantial means."
Manager of Dryade Laforêt Immobilier, Jean-Louis Fiorini has been based in Vannes since 1997. His two agencies - one specializing in sales, the other in property management - cover the "Cité des Vénètes" and its surrounding area : the neighbouring communes of Baden, Larmor-Baden, Arradon, Séné, Saint-Avé and Plescop. "A pleasant area to live in, spared by bombing in the Second World War, where one can find remarkable residences, some dating back a long time." One such house in 18th-C. style in the centre of Vannes with living space of 300 m2 (to renovate) is priced at 650,000 €. "These charming and classy properties to be discovered on the Laforêt Prestige website - properties over 500,000 € - are mostly outside Vannes. Though this example is worth mentioning, because of neighbourhoods on the right and left sides of the port." Another example is a contemporary 1-storey house of 200 m2 with a pool, proposed at 750,000 €. "Prices rise to 2.5 million euros, with a few exceptions : we are currently offering a house of 450 m2 on the seafront enjoying a superb view, in 7,000 m2 of grounds, at around 5.5 million euros." Buyers of this type of property who contact Jean-Louis Fiorini are over 50 years old, with very comfortable budgets, often from the Ile-de-France (region around Paris). "Many of them have sold a property just beforehand."
Thierry Macé, manager of L'Agence de la Mairie Macé Immobilier, is based in Theix. Created in 2001, his agency specializing in old properties covers the entrance to the Rhuys peninsula east of Vannes : the communes of Theix, Surzur, Le Hézo, Saint-Armel, Berric, Lauzach, Sulniac and Treffléan. "While we mainly deal with individual houses, "desirable" residences are a micro-market here, making these homes even more exceptional. They consist of large properties or stone "longère" farmhouses of about 300 m2 in over 3,000 m2 of grounds, ranging from 600,000 to 1 million euros." Example : a "longère" currently on offer at 630,000 €. "Set in 5,200 m2 of grounds, with living space of over 300 m2 (four bedrooms), a heated pool and a quiet environment in the country." Ten minutes from Vannes, the agency proposes another "longère" with five bedrooms, priced at 699,000 € : "Renovated throughout and benefiting from two lovely annexes built of stone, also restored, with natural slate roofs, it is set in over 4,000 m2 of grounds". Another illustration in Surzur : a 6-bedroomed "longère" in grounds of 7,800 m2 priced at 829,000 €, which also boasts high-quality renovation and outbuildings. "These properties are especially sought-after by clients from Paris and its surrounding region, looking for family homes or second residences with character."
You will also like