Desirable properties in the Bordeaux region
Due to surging numbers of city-dwellers from Paris and Bordeaux in search of a natural environment, high-end properties are becoming rare and consequently more expensive.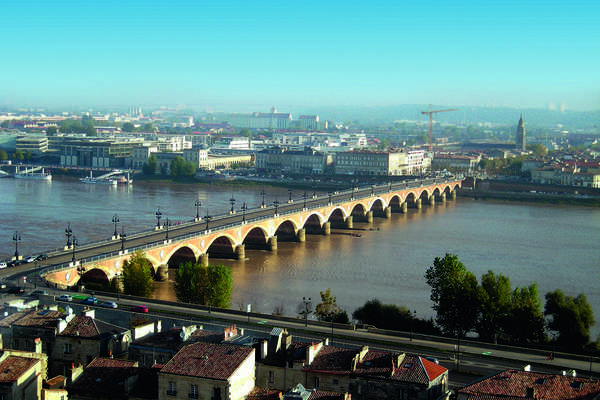 Neighbourhoods along the River Garonne are among the most highly-prized in Bordeaux.
Specializing in sales of properties for the past 20 years, Arnaud Dorémus, founder of the agency in Quinsac bearing his name, mainly covers the hillsides on the right bank of Bordeaux. "The area mainly consists of villages with fewer than 5,000 residents, comprised of residential neighbourhoods, old centres and holiday homes. On the prestige property market, communes lying between Bouliac and Quinsac are proving to be highly-prized by buyers, mostly due to their proximity to the Bordeaux–Saint-Jean train station : on the High Speed line, they can reach the centre of Paris in two-and-a-half hours." Ranging from charming stone buildings to highly contemporary villas designed by architects, properties available in this area offer wide diversity. For a stone residence of 180 m2 with a garden and pool, one needs a budget of 800,000 €. "The crisis has led to a significant rise in the number of buyers from Paris and its surrounding region, and others from Bordeaux wanting to distance themselves from the centre to live a family life in an airier and more natural environment. However, supply is outstripped by demand. Whether for charming houses or contemporary villas, buyers are mainly searching for properties not in need of renovation - which have seen a price rise of around 10 % since the end of the first lockdown."
Specializing in the market in Bordeaux, Amélie Segret runs Alpierre Id-Immo, an independent agency based in the Saint-Seurin neighbourhood for over 30 years. "We mainly cover the town's privileged neighbourhoods. Over the past year, due to the wide adoption of teleworking, we have welcomed numerous Parisian buyers looking for houses ideally with four bedrooms, a garden with a pool, or grounds which could take one, and parking space. Given the rarity, or even the shortfall, of such properties, fine homes offered for rent easily find takers. When a residence meets all the afore-mentioned criteria, it can now attain a price per sq. metre higher than that quoted in 2020." Buyers call on the expertise of the Alpierre agency to find a property in Saint-Seurin or neighbouring areas with renowned schools : Caudéran, Le Bouscat, Saint-Augustin for its village atmosphere, and Saint-Genès. In the case of "échoppes" - typical houses in Bordeaux -, Amélie Segret says that their appeal remains intact despite a considerable rise in prices. "We recently presented one for sale. The same day, we received about 15 calls expressing interest. Prices for apartments remain stable. Though if they benefit from an outdoor area, they sell very quickly. If not, their owners have to be more patient."
You will also like