Colmar and the surrounding region : at the heart of Alsace's vineyards.
On the famous wine route in Alsace, Colmar is a lively and very pleasant town to live in. Consisting of 36 communes with about 130,000 residents, its urban area proposes a very wide range of property prices.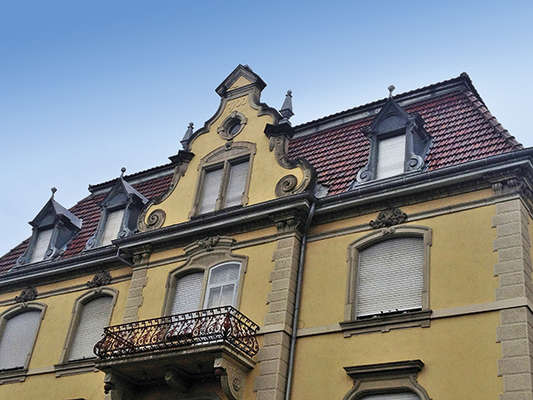 In a bourgeois building near the hyper-centre of Colmar, this 4-bedroomed apartment offers living space of 120 m2. 379.000 €. Contact Immo (03 89 24 42 40).
The capital of Alsatian wines since the Middle Ages, Colmar stands at the edge of the region's famous vineyards and is today one of its major economic and tourist centres. The agglomeration therefore benefits from well-developed transportation infrastructures, including the A35 (reaching Strasbourg in under an hour) and the TGV (Paris in less than 3 hours). Though Colmar is also a town of art and history (with 58 listed monuments), mostly pedestrian and offering pleasant living conditions, especially thanks to its exceptional micro-climate : sheltered by the Vosges, the town in fact benefits from one of the lowest rainfalls in all of France.
As for its property market, prices vary significantly depending on specific sectors : "In the residential area and neighbourhood of Les Maraîchers to the south, prices per sq. metre range from 2,000 to 3,000 €, as compared to 1,600 to 2,500 € in the town centre," explain Frédéric Andreottola, Philippe Monnier and Bertrand Geismar, associate managers of AMG Immobilier, an agency set up in 2006 special­izing in asset management (300 apartments under contract). "In other neighbourhoods such as Sainte-Marie, Saint-Joseph or Ladhof, prices are even lower : from 1,200 to 1,600 €." The region surrounding Colmar, where one mainly finds houses, also posts disparate prices : "The area on the plain to the east is less expensive than that of the vineyards, to the west. By way of example, a classic "pavillon" with a garden of 500 m2 costs from 200,000 to 250,000 € to the east, while it will fetch 50,000 € more to the west". Building plots can be found from 25,000 to 35,000 € per 100 sq. metres, "with prices occasionally much higher for desirable plots in residential areas".
Valère Guedj, manager of Contact Immo, an agency founded in 1999, describes the same sectorialisation of Colmar's property market : "In residential areas, a house with generous living space will be offered from 750,000 to 1 million euros. In the neighbourhood of Les Maraîchers, the same type of home will cost from 350,000 to 500,000 €, or exceptionally 600,000 €". The same goes for the town centre : "Even though the price per sq. metre for apartments can attain 2,500 €, a property in a 1960's residence on the periphery of the hyper-centre can be had for only 1,200-1,800 €". As for Colmar's surrounding region, our estate-agent also confirms the gap between the west, "with its highly-prized villages such as Ingersheim, Turckheim and Wintzenheim", and the east, "even though Horbourg-Wihr does also post some high prices". As evid­enced by the prices of building land : "One can pay from 23,000 to 30,000 € per 100 sq. metres in the vineyard area, compared with 13,000 to
18,000 € on the plain".
You will also like