Collonges-sous-Salève, a popular address
Between Saint-Julien-en-Genevois and Annemasse, Collonges-sous-Salève lies at the foot of Le Salève, on the border with Switzerland. This pleasant commune with about 3,900 residents covers an area of 6.13 sq. km and offers two main assets : its closeness to Geneva (about 15 minutes by car), and its authentic natural charm.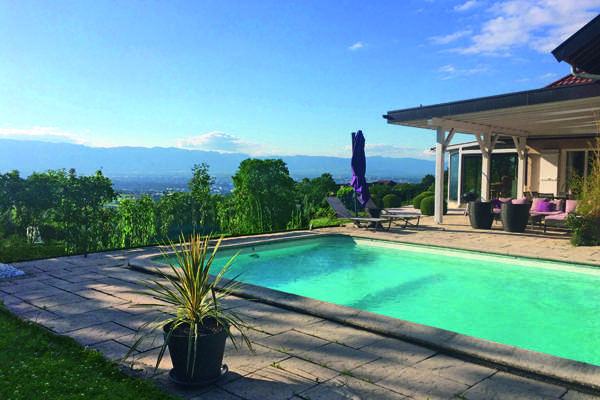 This house of 170 m2 in grounds of 1,200 m2 with a pool offers an unimpeded view of Lake Geneva. It just found a new owner.
Shops, basic amenities, nursery and primary schools, a smooth flow of traffic towards Switzerland, fast motorway access to Chamonix, Annecy, Lyon and Paris... Nothing is missing in Collonges-sous-Salève for a practical and enjoyable lifestyle. Nothing, except perhaps a few more homes. "We are working under tight conditions, as stocks are limited on this prized commune," explains Christian Pétament, manager of Affair Immobilier, a long-established family agency which has just recruited an extra employee. "Whenever a property comes on the market, it sells on average within three to six months, if it is offered at a fair price. There are lots of serious buyers, though they no longer indulge in impulse buying. They are highly focused on prices, make lots of visits, compare, and don't hesitate to extend their searches 4 to 5 km further away." By way of example, Christian Pétament mentions one of the transactions he recently orchestrated, an attractively renovated 1970's house in a garden of 1,200 m2 with a pool. Offering living space of about 170 m2, this property in a residential area with an unspoilt view of Lake Geneva sold for around 800,000 €. Another house built in the 1980's, partly modernized and set in grounds of 1,000 m2 with a pool, also found a taker at around 800,000 €. "Over the past 18 months, we have seen renewed demand for properties at this kind of price," says our estate-agent, who recently also sold a modern house of 120 m2 priced at 660,000 €, and an apartment of 130 m2 in need of a revamp, with two terraces offering views of Lake Geneva, at 460,000 €. What about new properties ? "For the moment they are extremely rare. In the wake of a new urban plan, several building permits have been filed, though it will take two years for most of the developments to rise from the ground."
New properties are indeed very scarce in Collonges-sous-Salève, and the team at the Cabinet Immobilier De Pompéi & Jeandet based at the heart of Saint-Julien-en-Genevois is well aware of the potential offered by a small development comprised of three villas that they are currently commercializing. Specializing in sales and rental management on all the communes in Le Genevois, the experts in this agency, which has also just taken on a new agent, propose a good array of meticulously selected properties. "Set in grounds surrounded by natural greenery in a residential area on the hills of Collonges-sous-Salève, these three good-sized villas with identical surface areas, ie. 182 m2, offer large living-rooms of 72 m2, three bedrooms and a study, meeting the current expectations of demanding buyers. They all have double garages of 50 m2," says Pasqualina de Pompéi, a partner in the firm alongside Sylvie Jeandet. Ideal for families, these homes built of quality materials by a Swiss developer and benefiting from appointments in today's taste are on offer at 750,000, 780,000 and 810,000 € depending on the size of their gardens, ranging from 743 to 1,081 m2. All with sunny outlooks facing south-west, they are slated for delivery in May, 2018.
You will also like