Collioures and Saint-Cyprien, two contrasting coastal towns in the Pyrénées-Orientales
The first is on the Côte Vermeille, about 20 kilometres from Spain. The second got into its stride in the 1960's, together with six other seaside resorts initiated by the inter ministerial mission for tourist development of the coast in Le Languedoc-Roussillon. Collioures is popular among artists, Saint-Cyprien is the third largest sailing harbour in France.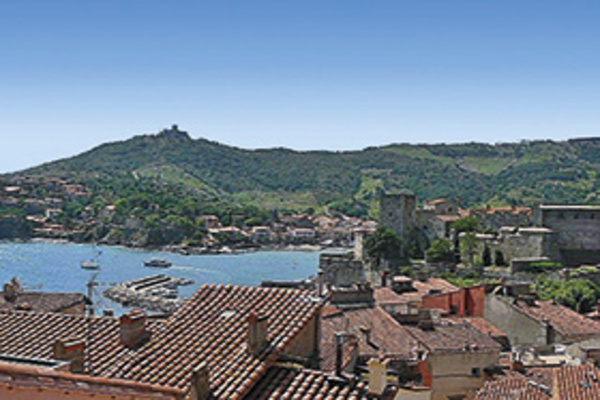 At the heart of the typical neighbourhood of Le Mouré in Collioure, close to the beach and shops, this village house is divided into two parts of respectively 80 m2 in good condition, with a small garden, and 21 m2 with a cellar of 15 m2. 490.000 €. Agence Py (04 68 82 04 97).
3,000 people live in Collioures year-round. Derain, Braque and Matisse immortalized the old fishing village, renowned for the quality of its anchovies. Benefiting from a train station, the town shares out its activity between its commercial harbour and its seaside vocation. 13 km east of Perpignan, Saint-Cyprien is home to almost 10,500 res­idents. Proud of its Pavillon Bleu, Qualité Tourisme and Famille Plus labels, the commune offers 6 km of sandy beaches, makes its living from the service sector and accommodates 100,000 occupants in the summer season.
"Collioures, on the Côte Vermeille, is popular amongst seniors, mostly from the Paris and Toulouse regions, charmed by its cliffs and creeks," says François Py of the Agence Py. Their budgets range from 250,000 to 300,000 €, the latter bringing a 2-bedroom apartment with a terrace in the flagship town on the coast of the Pyrénées-Orientales. Among his latest transactions, our estate-agent mentions a 1 bedroom apartment of 45 m2 prolonged by an outdoor area, sold for 200,000 €, a studio of 25 m2 in the historic heart of town, for 112,000 €, and a 2-bedroom apartment of 60 m2 in need of restoration, with a terrace facing the sea and mountains, for 262,000 €. Economic sluggishness is hardly encouraging people to buy holiday homes, though a rethinking of the realities affecting the market on the part of owners could make things flow more smoothly. Bargaining is tough and completions are very lengthy. Over and above 500,000 €, the market for villas is lacking in vigour.
"While charm is the undisputed prerogative of Collioures, Saint-Cyprien places its bets on its sandy beaches, sailing harbour, parks, biking trails, international golf-course and quality sports facilities," says Thierry Drugeon of Immojaime. 80 % of this agency's sales in Saint-Cyprien or one of the two neighbouring villages, Alénya and Latour-bas-Elne, concern retirees or future retirees from the northern half of France, looking for a pleasant life-style, warmth, a congenial atmosphere and social contacts. They like the lively clubs and associations. Most sales revolve around 180,000 € for apartments - the budget required for an apartment of 50 m2 -, 300,000 € for houses - bringing a single-storey home of 100-120 m2 with a garden of 500 m2. A few high-quality villas of 180-200 m2 in grounds of 700-900 m2 stand on the edge of the golf-course. Retirees place great importance on easy access to their homes, maintenance costs, energy bills and the proximity of shops and amenities. Over the past year, the average budget has dropped by 50,000 €. Today, it does not exceed 300,000 €, excluding notary's fees. All types of accommodation find takers as long as market prices are observed.
You will also like