Clermont-l'Hérault : undergoing extensive development
A lively and pleasant little town with over 8,000 residents, benefiting in particular from its closeness to Montpellier, the A75 motorway and renowned natural sites, Clermont-l'Hérault proposes a property market with very appealing prices.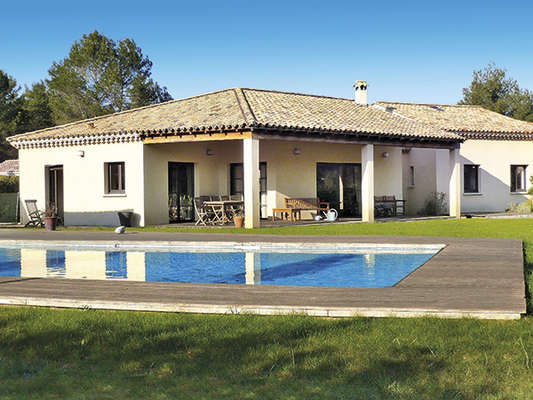 In a residential area, this high-end villa of 200 m2 is set in 2,000 m2 of grounds. 680.000 €. Saint-Benoit Immobilier (04 67 57 37 37).
Equipped with essential infrastructures (motorway network, hospital, primary, intermediate and secondary schools...), offering a go-ahead economy (La Salamane activity park, market, tourism...) and an authentic green environment, Clermont-l'Hérault draws interest from people from Montpellier in search of tranquillity. Especially as property prices here are much more attractive than those in Montpellier (40 km or a 35-minute drive away). Its architec­tural heritage (Collégiale Saint-Paul, Château des Guilhem, Dominican convent...) and its proximity to several tourist sites (lake of Salagou, Cirque de Mourèze, commune of Pézenas...) also draw French and foreign buyers looking for second residences.
Based since 1998 in Aniane, about 15 km north-east of Clermont-l'Hérault, the Saint-Benoit Immobilier agency specializes in houses of character in the countryside around Montpellier. "The Clermontais market is now stable and lively in the lower and middle price brackets," explains its manager, Christophe Joullié. "Over and above 500,000 €, activity is slower, though demand remains steady." Commercialisation of building land is notably seeing a boom : "Entire areas have been authorized for construction and many small plots are available. Ranging from 300 to 600 m2, they are priced from 180 to 230 € per sqm." New homes consist of small terraced villas on estates, costing from 130,000 € for living space of 45 m2 to 170,000 € for 60 m2. "Homes with small gardens, ideal for first-time buyers." As for older properties, Christophe Joullié recently sold a 3-bedroomed villa of 90 m2 with a garden of 280 m2 for 170,000 €.
Hugo and Jean-Louis Dreuille of Via Sud Immobilier are based in Béziers, about 45 km south of Clermont-l'Hérault. Founded in 1991, their agency specializing in properties of charm covers an area stretching from Cap d'Agde/Valras-Plage to La Salvetat-sur-Agout, and from Narbonne to Montpellier : "People looking for apartments can find studios of 35 m2 for 50,000 € in the centre of Clermont, or apartments of 100 m2 for around 170,000 €. Otherwise, offerings range from village houses at about 150,000 € - or even less depending on their condition - to vineyard properties worth 1 million euros." Between the two, the agency recently handled the sale of a villa of 110 m2 in 2,500 m2 of grounds with a pool, priced at 228,000 €. As for building land : "Plots of 400 m2 are available from 180 to 200 € per sqm, those of 2,000 to 3,000 m2, much rarer, from 80 to 85 € per sqm." Prices which have "declined somewhat before becoming stable" and are now "coherent in terms of market realities". Retirees or pre-retirees, Via Sud Immobilier's typical clients tend to come from northern France or northern Europe.
You will also like