Charming and authentic villages around Uzès
Benefiting from the undeniable appeal of Uzès, the surrounding villages are now in high demand. And for good reason : their quality life-style, history, picturesque architecture, and enticing prices all act as magnets.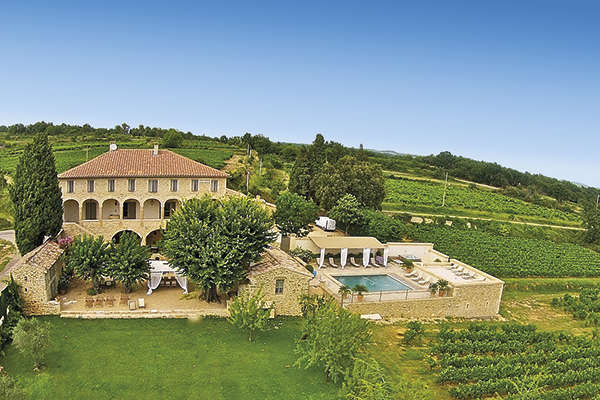 18 km from Uzès, this property of 740 m2 stands on almost 5 acres of land (including 2.5 acres laid to vines). 2.940.000 €. Pont du Gard Immo (04 66 03 03 10).
Nestling in the midst of vineyards and "garrigue", the pleasant little communes in the natural region of L'Uzège (the area around Uzès) offer an attractive undulating environment and an outstanding architectural heritage within easy reach of Nîmes, Avignon and Alès. Those less than 5 km from Uzès - especially Arpaillargues-et-Aureillac, Montaren-et-Saint-Médiers, Saint-Quentin-la-Poterie and Saint-Maximin (home to the Château Racine where the famous playwright once lived) - are the most highly-prized. Though Castillon-du-Gard (about 15 km from Uzès) has now also become a sought-after address. Just like Blauzac (less than 10 km away), Lussan (20 km) and, of course, Vers-Pont-du-Gard with its well-known bridge (10 km).
Jean Vilar, manager of Pont du Gard Immo (opened in 2002), is in fact based in the remarkable village of Vers, and also in that of Castillon-du-Gard. Covering a tourist area and more generally the very active triangle formed by Avignon, Nîmes and Uzès, he mainly receives enquiries about two types of properties : "Houses of 80-100 m2 priced from 180,000 to 230,000 €, and more substantial villas ranging from 300,000 to 400,000 €. The first are widely sought after by first-time buyers, the second are of interest to Parisians or foreigners looking for holiday homes". Otherwise, he can propose village houses of 50 to 60 m2 which, with small outdoor areas, can be had for around 150,000 €. "For example, we recently sold such a house of 56 m2 with two bedrooms and a garage for 145,000 €." As for building land, "a plot of 600 to 700 m2 costs almost 100,000 €". Appealing prices which Jean Vilar now considers "stable".
Yann Wojtera manages Côté Soleil Immobilier, an agency opened in Remoulins in 2004 and another in Uzès in 2010, proposing a full array of homes (from village houses to high-end properties such as vineyard estates). He thus also covers the prestigious area of Le Pont du Gard : "By moving further away from Uzès, clients can find properties with larger grounds. And the further one gets from the historic centre, the lower the prices". For a village house in the first ring around the town, one would expect to pay from 200,000 to 300,000 €. "With living space of 100 to 150 m2, their prices basically depend on the whether or not they have an outdoor area - a terrace, courtyard or small garden". For a stone house or "mas", the price bracket widens to 200,000 to 500,000 €, as demonstrated by two recent sales : "In Bourdic (10 km from Uzès), a stone house of 100 m2 with a courtyard, priced at 223,000 €, and in Saint-Chaptes (15 km), another stone house of 200 m2 with a courtyard and pool, which fetched over 400,000 €". Modern villas start from 250,000 € and rise to 600,000 €. As for building land, "plots of 800 to 1,000 m2 range from 90,000 to 120,000 €". Half of Yann Wojtera's transactions consist of holiday homes, acquired by clients mostly from other regions or abroad, in search of typical properties.
Based in Uzès, Aurélia Vincens is a Management Partner of Terres du Sud Immobilier, an agency launched about ten years ago covering a radius of 10 to 15 km around the town. Her numerous recent sales in L'Uzège illustrate today's enthusiasm for this market and its variety : "We just sold a property comprised of two village houses 5 km from Uzès - the main residence and a house for guests - offering living space of 200 m2 with a garden of 550 m2, priced at 470,000 €. In Blauzac (8 km from Uzès), we sold a lovely village property of about 500 m2 in grounds of 1,200 m2 for 1.8 M €. And in Bourdic (8 km), a contemporary villa of 160 m2 with tasteful appointments in 900 m2 of grounds with a pool sold for 455,000 €". Other examples : a property of almost 400 m2 on 2.5 acres of land 12 km from Uzès priced at 787,000 € (requiring renovation ), and a stone "mas" of 240 m2 in Goudargues (25 km) with a 5-acre park and swimming pool, at 645,000 €. "For that amount, a house in Uzès would have a garden of no more than 500-1,000 m2." Over the past two years, prices of villas have in fact seen a slight decline. "They are, however, currently stabilizing," comments Aurélia Vincens. Mostly looking for second homes, her clients also come from Paris, the regions around Lyon and Annecy, the UK, Switzerland and Belgium. "Some of them plan to settle here permanently once they retire."
You will also like